With approximately 8 million pieces of plastic making their way into our oceans daily and with more than 200 animal species documented to have consumed plastic from our oceans, it's safe to say sustainability is more important than ever.
Since 2012, Parley has made it their mission to raise awareness toward the beauty and fragility of the oceans by collaborating with brands, designers, environmentalists and governments to explore new ways of reducing the amount of plastic that ends up in our oceans.
Now embarking on yet another chapter since their collaboration began in 2015 with their football jerseys made with Parley Ocean plastic, adidas launches their first ever Parley Boot Pack to move towards a more sustainable future.
While not a complete solution to the problem our oceans face, it's an ambitious first step towards backing the brand's commitment toward replacing virgin polyester with recycled solutions by 2024, wherever possible.
And so, a new 'Vegan Standard' is born.
Arriving in an alluring sea of lucid blue and brilliant white, the Parley pack features elegant wave-patterned designs as a reminder of adidas's pledge towards protecting our oceans with the help of Parley.
Set to feature across the Predator Accuracy, X Speedportal and Copa Pure boots, adidas drive home a 'Problem to Performance' sentiment that highlights the potential for companies to not see recycled material as inferior, but superior!
A welcomed move and one we can certainly all get behind!
adidas x Parley 2023
For the lovers of precision and accuracy, there's no denying the Predator Accuracy is the boot of choice for executing swift movements and making split-second decisions in playmaking.
Don't just take our word for it either-Pedri, Pogba, and Bellingham all use the Accuracy as their boot of choice and will be strutting their stuff in a pair of Parleys in the coming months.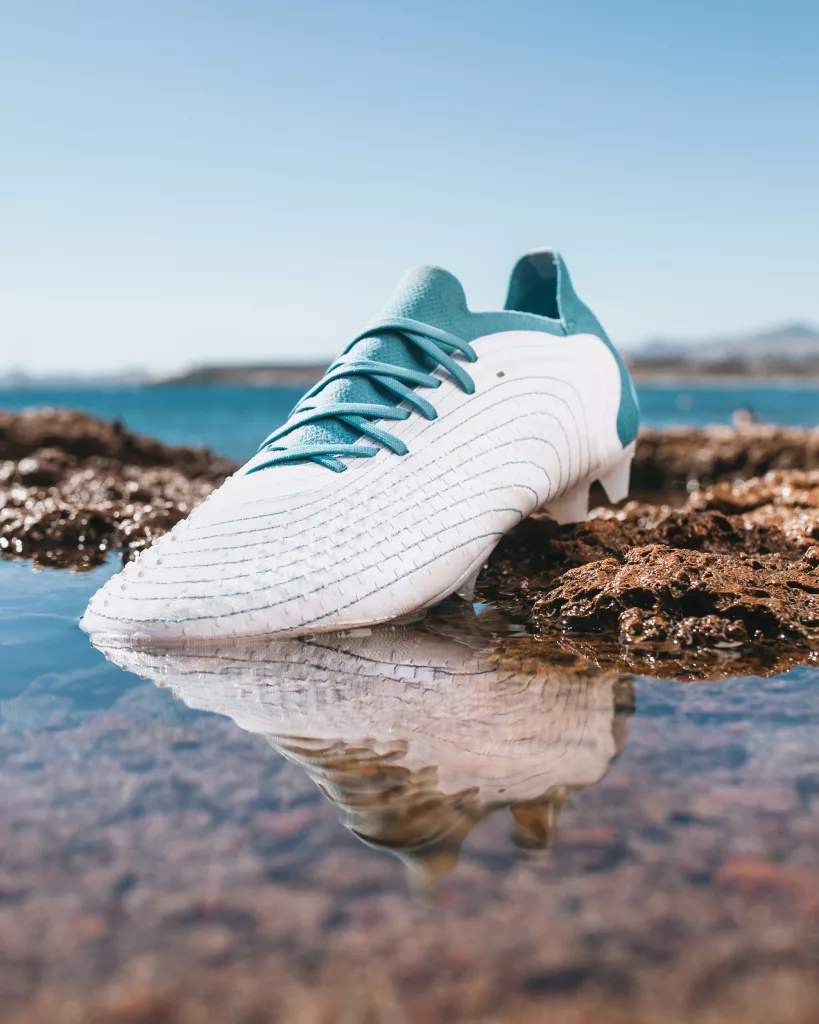 Employing the same boot tech as that found on last month's Accuracy +, the Parley edition sees the welcome return of the Hybrid Touch upper, alongside signature High Definition Grip rubber elements for enhanced control and precision with every touch of the ball.
Soft to the touch, the Accuracy silo also combines a flexible Primeknit material with a laceless upper to enable better lockdown whilst bringing the player closer to the action.
For the Parley X Speedportal, adidas again utilizes the same boot tech as seen on their famed Speedportal silo that featured in their 'Own Your' football pack, however with one exception.
Alongside the shift toward using 100% recycled Parley material on the upper of the boot, the carbon soleplate has also been replaced with a more sustainable outsole.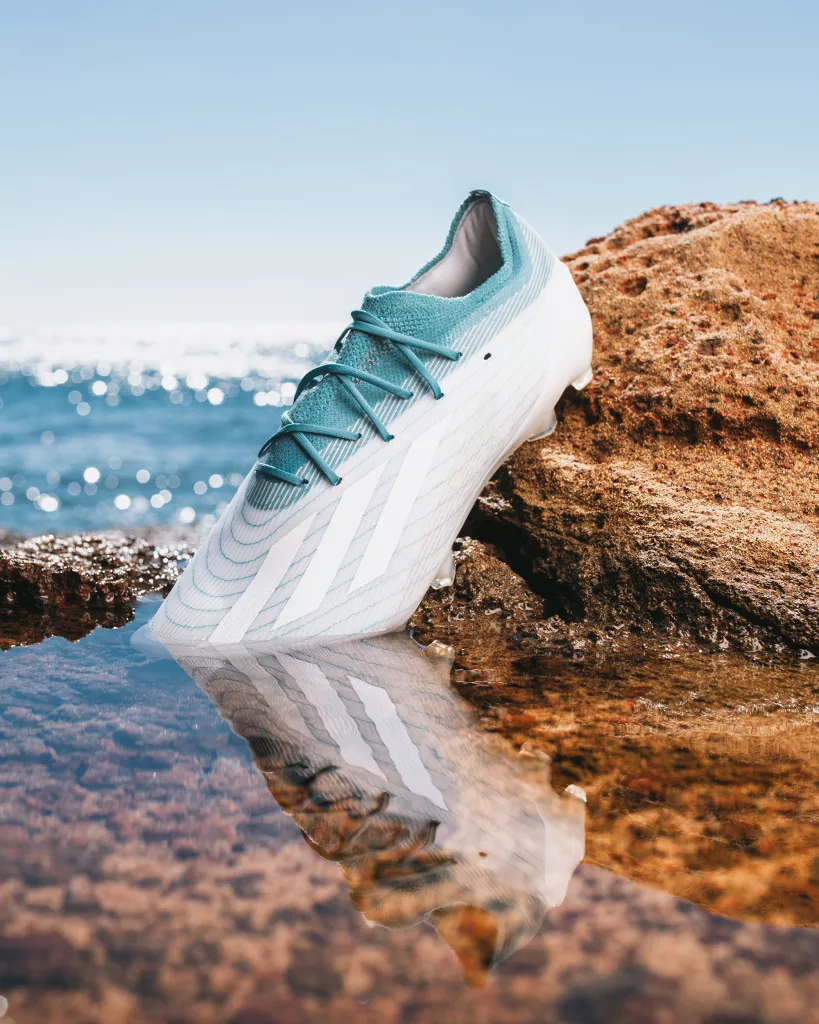 But don't fret speedsters, adidas haven't compromised their boot tech with their all-new design, but rather, reinvented what it means to situate 'speed' back at the heart of the Parley X Speedportal.
You can expect the likes of Serge Gnabry, Rafael Leo, Mapi Leon and Trinity Rodman to showcase Parley's boot tech potential in the coming months.
In looking back to the introduction of the Copa Pure earlier this year, adidas shook up their design by swapping out K-leather previously used in their Copa Sense range with more sustainable cow leather.
While a step in the right direction, it's clear adidas felt there was always room for improvement in tackling concerns over sustainability.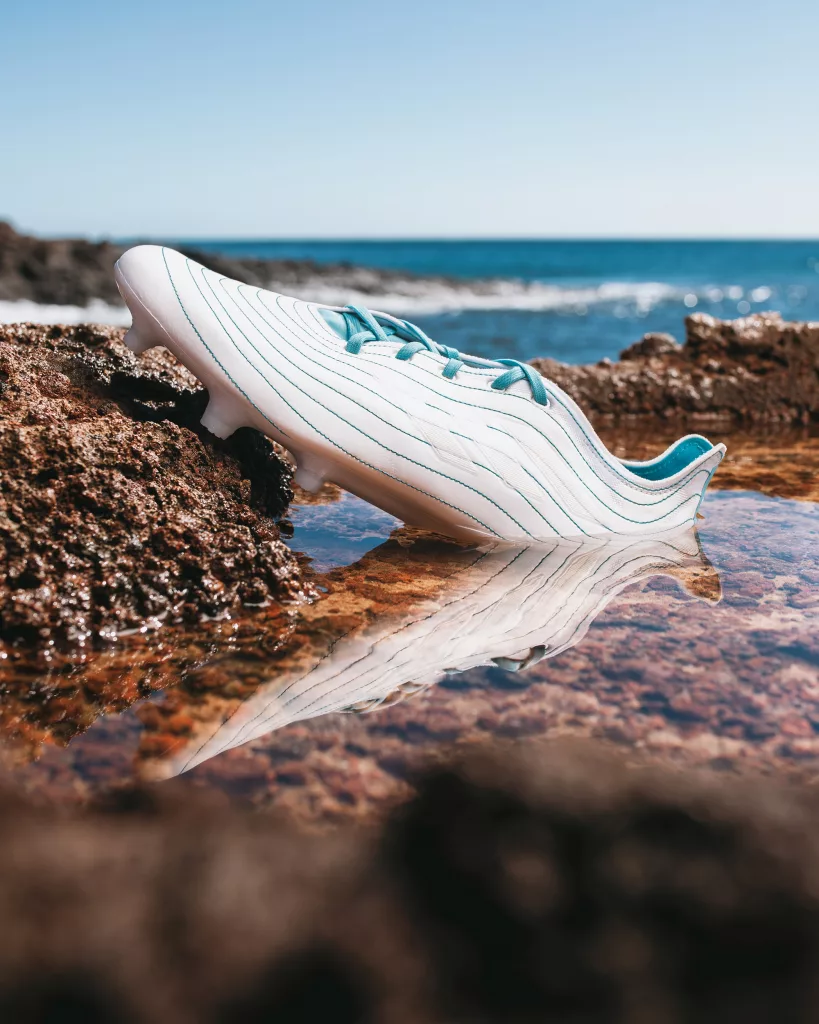 Now taking the world by storm, adidas's collaboration with Parley sees the Copa Pure take on an all-new form factor, swapping out the cow leather for a synthetic leather material that utilises Parley yarns to provide players with a fully vegan alternative.
You can expect to see Wesley Fofana, Ilkay Gunddgan and Lina Magull all sport the Copa Pure in the coming months.
Whilst adidas's decision to release their Parley boot pack is commendable in reducing their environmental impact, it's clear adidas aren't just stopping there in revolutionizing the boot game…
In a bid to shift the stigma surrounding football as a game only to be played by men, the adidas Parley pack seeks to recognise the impact women's football has had on the sporting world in recent years.
Since 2002 there has been a significant rise in the popularity of football amongst female players and is now recognised by the FA as the number one participation sport for girls and women in England.
While that's fantastic news, it's taken almost two decades for women's interest in the sport to be taken seriously, and adidas is making it their mission to make up for lost time.
How, do you ask? Through endorsing some of the world's finest playmakers such as Mapi Leon, Alessia Russo, Jule Brand and Lina Magull and situating them at the heart of the Parley x adidas campaign.
A fantastic start towards recognising women's football as deserving of equal appreciation as the men's!
If you're looking to get your hands on the latest Parley pack and want to embark on a more sustainable future whilst you're at it, you can explore the full range of X Speedportal, Accuracy and Copa Pure at Lovellsoccer.co.uk today.