#1. Alejandro Garnacho
Let's embark on Alejandro Garnacho's remarkable journey. This young prodigy has captivated hearts with his lightning speed, impeccable skills, and an air of confidence that sets the pitch ablaze.
Cast your mind back to that unforgettable instant when he orchestrated Marcus Rashford's game-winning strike in the electrifying Manchester Derby.
That, my friends, is a mere glimpse into the enchanting magic that resides within him.
Relentless in his pursuit, even when his initial cross encountered resistance, Garnacho refused to yield. His resolve and finesse were on full display as he danced around the defender, conjuring a golden opportunity that led to Rashford's heroics. A tip of the hat to Coach Ten Hag, who masterfully harnessed Garnacho's impact as a substitute across multiple matches.
Now, let's rewind to May when Ten Hag offered us a sneak peek into Garnacho's evolution: "He's mastering the art of dueling defenders one-on-one, knowing when to seize the moment for a goal, orchestrating plays for his teammates, and delivering those match-altering assists."
This budding maestro is frequently found on the Left Wing, and can you believe he's a mere 19 years of age?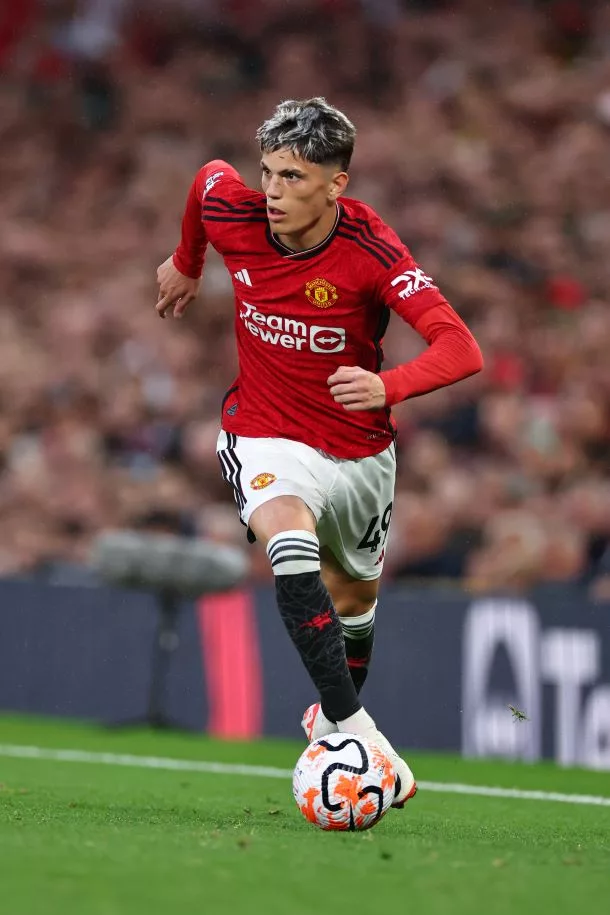 Fast forward to the latest spectacle—Ten Haag introduced him to the fray against Wolves on August 14th. Yet, as fans are wont to do, they pondered if he could sustain his brilliance for the full 90 minutes.
The formidable Nelson Semado provided a challenge, and there was that soaring shot that nearly etched his name into a match that didn't quite align with his signature style…
Yet, let us not overlook the fact that this young marvel is only 19 years old. The horizon stretches endlessly before wonder kid Alejandro Garnacho, an expansive canvas where he can step up and illuminate the world with his brilliance.
#2.Andrey Santos
Behold, the emergence of a star, a mere 19 years old and hailing from the vibrant Rio de Janeiro. The footballing cosmos is ablaze with excitement over his prowess as a defensive midfielder—a reputation solidified by his pivotal role in Brazil's Under-20 national team.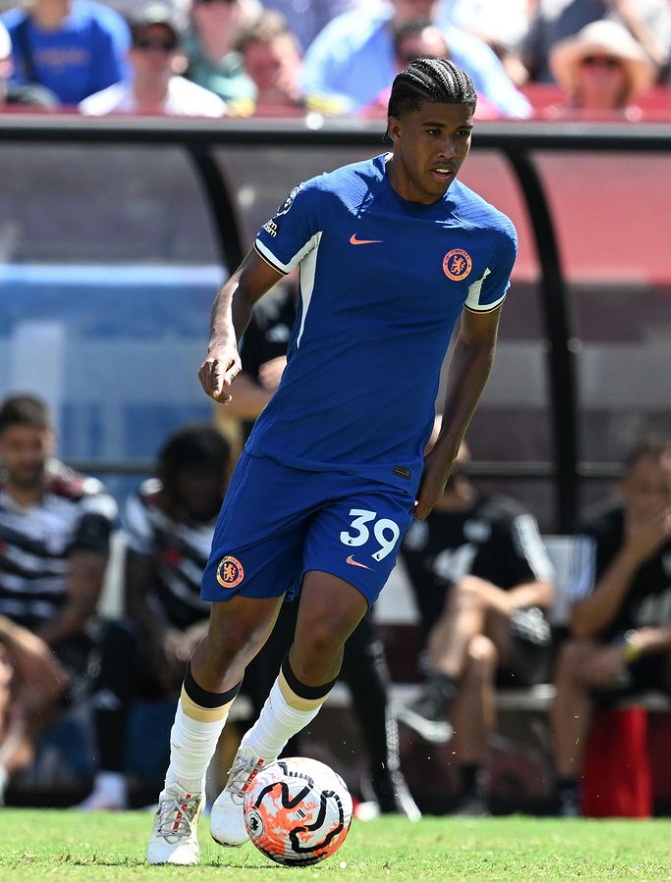 Now, let's plunge into the intricate details: he's etched his mark with four appearances, accumulating a total of around 197 minutes on the hallowed field.
Prepare for an enthralling twist, as the story takes a seismic turn. In the grand spectacle of January 2023, Santos spread his wings and embarked on a journey to Chelsea, bidding a poignant adieu to the days of Vasco da Gama.
With an imposing £18 million price tag, Santos stepped onto Chelsea's stage, poised to carve his legacy. Since joining the senior squad this summer, the young Brazilian talent has been on an unwavering mission to leave a lasting imprint on Mauricio Pochettino's mind.
His full engagement during the pre-season tour in the United States has been nothing short of remarkable, showcasing his skills breathtakingly. The resonance of his prowess echoed through two standout performances against Wrexham and Brighton, as new chapters added depth to his evolving tale.
His odyssey commenced at the tender age of 17, a late-game entrant in the heart-pounding Campeonato Carioca—a local showdown in the heart of Rio de Janeiro. But the grand stage awaited him with the Under-20 squad, where he orchestrated a symphony from the center of the field with his box-to-box midfield prowess. His tenacity was awe-inspiring, racking up goals and serving assists like a true virtuoso.
And let's delve into his roots—his ascent up the ladder of Vasco da Gama, a club that resonates with his hometown pride. They ascended to the upper echelons, and much of it can be attributed to his contributions. The numbers don't lie: 33 appearances and an astonishing eight goals during the 2022 Serie B campaign.
Yet, the story unfolds further. He embarked on an ascending trajectory through Brazil's youth ranks, transitioning gracefully from the Under-16s to the Under-20s. The climax arrived in February 2023, as he led the elder squad to glory in the Under-20 CONMEBOL Championship—a triumph that closely followed his move to Chelsea.
Now, brace yourselves for this delightful twist: he shared the spotlight as the tournament's top scorer alongside his compatriot Vitor Roque. Together, they weaved a tapestry of six goals each in just eight appearances.
But the pièce de résistance? A pivotal goal during the final showdown, propelling Brazil to an emphatic 2-0 conquest over Uruguay. A victory that crowned them South American champions and elevated them one precious point above Uruguay in the rankings.
In March 2023, Santos achieved a significant milestone as he made his debut for the senior Brazilian national team in a friendly match against Morocco.
#3. Evan Ferguson
Amidst Tottenham's relentless pursuit of a new striker in the wake of Harry Kane's departure, the spotlight finds its way to the promising Evan Ferguson.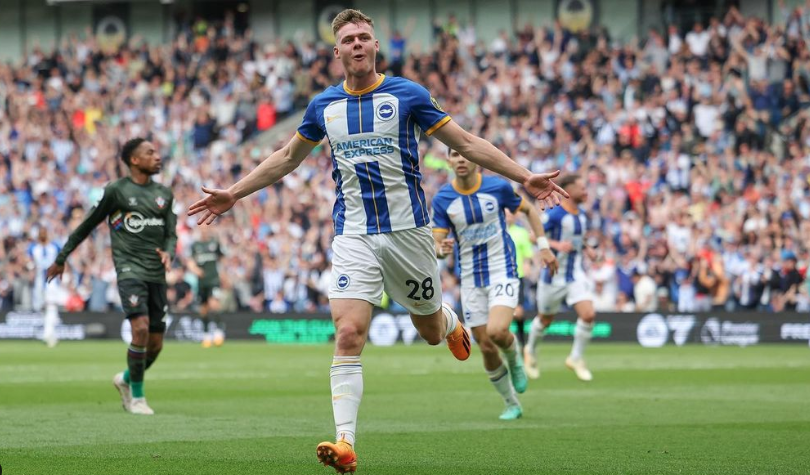 Currently anchored within Brighton, this rising star has carved his name into the conversation. A recruit of January 2021, Ferguson's meteoric rise through the ranks has seen him secure a coveted spot in Brighton's first-team squad in a mere 18 months.
The narrative becomes even more intriguing as we explore Ferguson's journey—a journey that has seen him grace the pitch in 30 matches for the Seagulls' premier team, delivering an astounding contribution of 15 goals.
In his debut appearance during Brighton's 2023-24 Premier League opener, this teenage sensation wasted no time showcasing his mettle, finding the net within a breathtaking 12 minutes of playtime.
It's undeniable—Ferguson's potential radiates like a beacon for the future. This potential has not gone unnoticed, with the eager gaze of Tottenham fixed upon him as they strive to secure a lasting solution for their frontline.
Not to be outdone, Manchester United also casts an envious eye on this emerging talent. Yet, amidst the flurry of speculation, Brighton's Paul Barber stands resolute, asserting that they entertain no offers amid the Manchester United rumors.
A whisper in the footballing corridors suggests a fascinating strategy embraced by Brighton—a waiting game of five years before even considering any potential transfer involving Ferguson. This approach speaks volumes about their unwavering belief in nurturing and fully realizing the potential of their prized asset.
With time as his ally, the future gleams brilliantly for Evan Ferguson.
#4. Stefan Bajčetić
In the midst of a scintillating breakthrough season during the 2022-23 campaign under the tutelage of Jürgen Klopp at Liverpool FC, the name Stefan Bajčetić resonates.
His journey led him from the realms of Celta Vigo to the grandeur of the Reds in February 2021, a move that unveiled his adaptable skills, shining prominently in both central midfield and defense.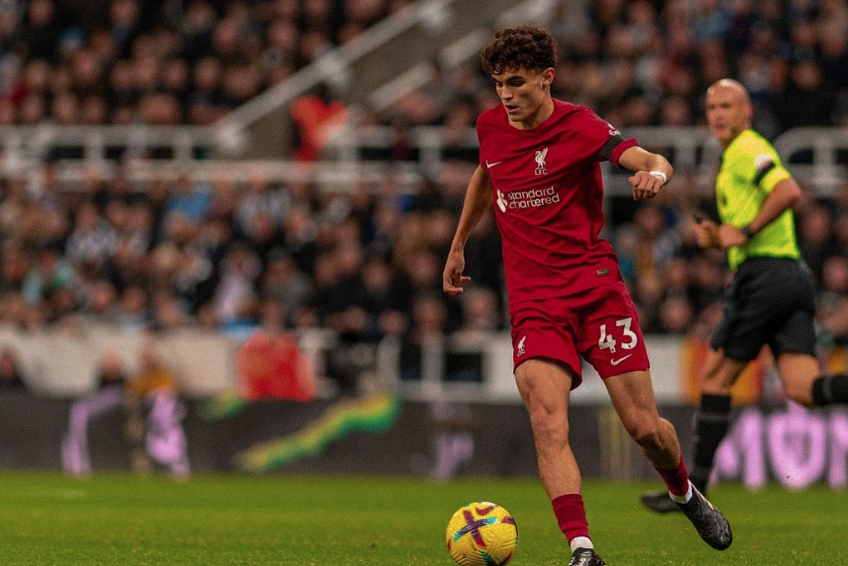 Progress has been swift and resolute for Bajčetić. The pages of his footballing story turned with a debut for the U18s as a mere U16 player during the 2020-21 season. This ascent culminated in a senior debut at a remarkably tender age—17—unfolding in August 2022.
A remarkable tally of 19 midfield appearances for the senior squad underscored his influence before a cruel twist of fate—the March 2023 injury that momentarily halted his crescendo. Sidelined for the remainder of the campaign, his promising trajectory took an unforeseen pause.
But within that timeline emerged an indelible memory—a senior goal during the triumphant Boxing Day spectacle in 2022 at Villa Park. His captivating form earned him the prestigious title of the club's Standard Chartered Men's Player of the Month for January, a tribute bestowed by the unwavering faith of devoted supporters.
Firmly entrenched within Liverpool FC's midfield, Bajčetić embraced an extended run in the team's fabric as the new year dawned. Yet, destiny intervened with an adductor injury sustained in March, abruptly truncating his campaign.
Resilience personified, this steadfast teenager embarks on a grueling journey of recovery, poised to reclaim his stride and contribute anew to Liverpool's tapestry of success.
#5. James Trafford
At the youthful age of 20, James Trafford strides onto the stage, poised to claim the mantle of goalkeeper—a role that whispers the possibility of ascending to England's premier position in the years to come.
A fledgling goalkeeper, Trafford etched his mark as an instrumental element of the Young Lions' triumphant odyssey in the European Under-21 Championship this summer—an odyssey that etched his name in the stars.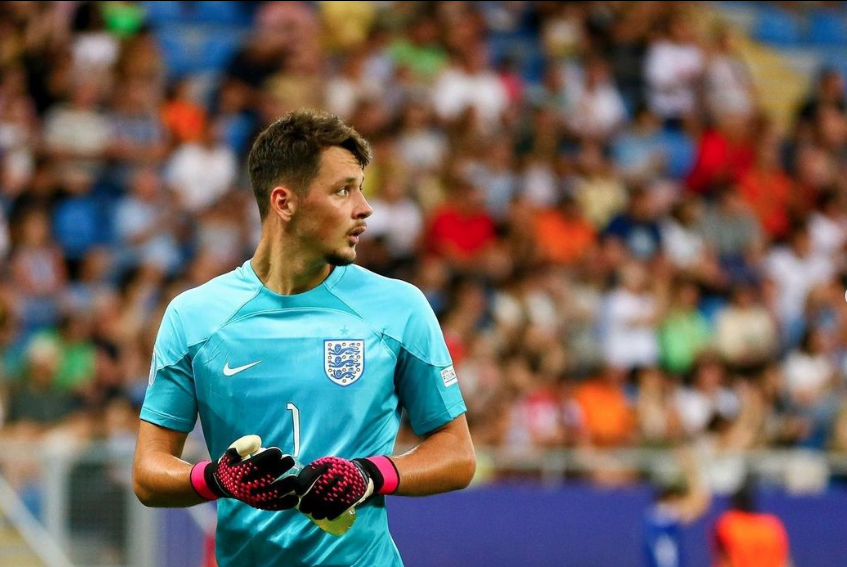 His transition from the domain of Manchester City to the embrace of Burnley stands as a chapter laden with significance, one that could potentially set a new club record with a substantial transfer fee of £19 million.
Distinguished by his exceptional shot-stopping prowess, Trafford's crowning achievement came in the form of six clean sheets gracing the triumphant Euros campaign—a testament to his unwavering dedication.
A defining moment arrived as he expertly thwarted a late penalty in the last minute of the Euro final, an exhibition of his agility showcased as he also denied the subsequent rebound in the pulsating final showdown against Spain.
Ventures beyond the realm of youth have enriched Trafford's journey—loan spells in League One with Accrington and Bolton during the preceding seasons—moments that have chiseled his potential.
The keen interest of Manchester City in his burgeoning talent is palpable, evident in a meticulously negotiated deal that encapsulates a 20% sell-on clause and a strategic buy-back option. The intricate details of the agreement harmonize—£15 million upfront, complemented by an enticing £4 million contingent on performance-related add-ons.
With the stage set for relentless competition, Trafford's entrance promises to ruffle the feathers of the status quo. A fresh breeze breathes life into the goalkeeping department, a narrative that unfolds as he vies with Arijanet Muric—an athlete whose steadfast performances played a pivotal role in Burnley's conquest of the Championship title with remarkable ease during the preceding season.
Like what you see? Stay in the loop with the latest Football News, Boot Launches & Guides right here with On The Line. You won't want to miss this!