Yet again, English football's top tier has proved why it's the toughest and most competitive domestic league in world football. The title and top four races, and relegation battles all went down to the final day. Manchester City emerged victorious, Spurs squeezed into a Champions League spot ahead of their North London neighbours Arsenal, while Everton flirted with relegation and Leeds clung onto top-flight status.
Goalkeeper
Alisson Becker
In goal we've gone for Liverpool's number one, Alisson Becker. In fine form once again, he conceded just 24 goals and kept 20 clean sheets from his 36 Premier League appearances, rightfully earning him the golden glove – which was incidentally shared with his national compatriot and opposite number at rivals Manchester City, Ederson.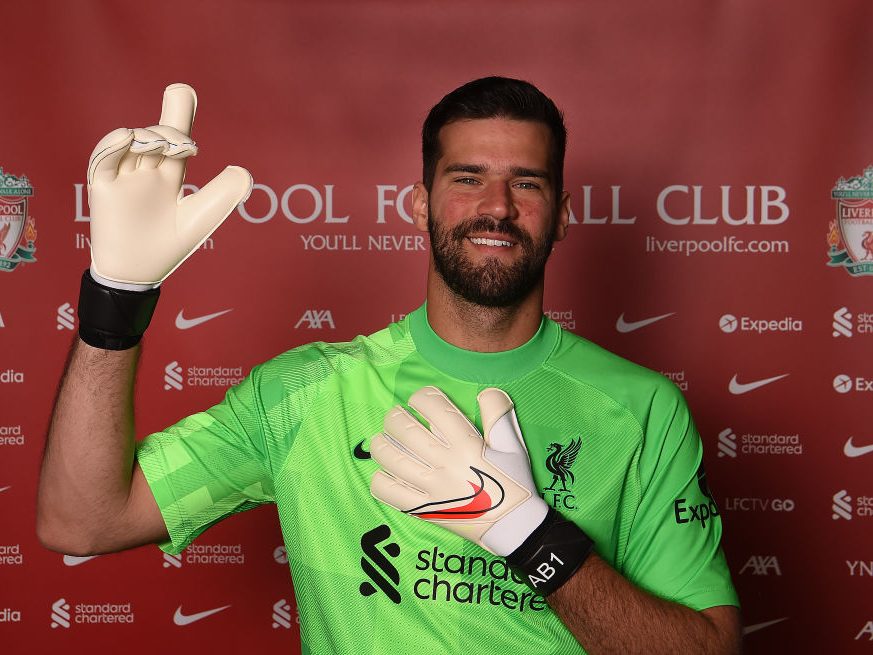 We went with Liverpool's Brazilian keeper based on his clutch saves in tight games and a improved distribution that stood out as he sprayed balls out at will to his team mates.
Centre-Backs
Thiago Silva
"Ooohh, Thiago Silva". The Brazilian boss was integral to Thomas Tuchel's Chelsea in what was a mixed season for the Blues, yet a stellar one for the defender and the twentieth in his glorious professional career. Talk about fine wine; the 37-year-old could still get ID'd for a beer, yet his Premier League season was an exemplary showing of how age is just a number.
Most of the 2651 minutes from the 28 games Silva played were spent commanding in the middle of a back three, applying his trademark sixth sense for anticipating balls and reading the game. Sure, he's not quite as nimble anymore but the superb slide tackles still fly in on occasion and remain a thing of pure footballing beauty.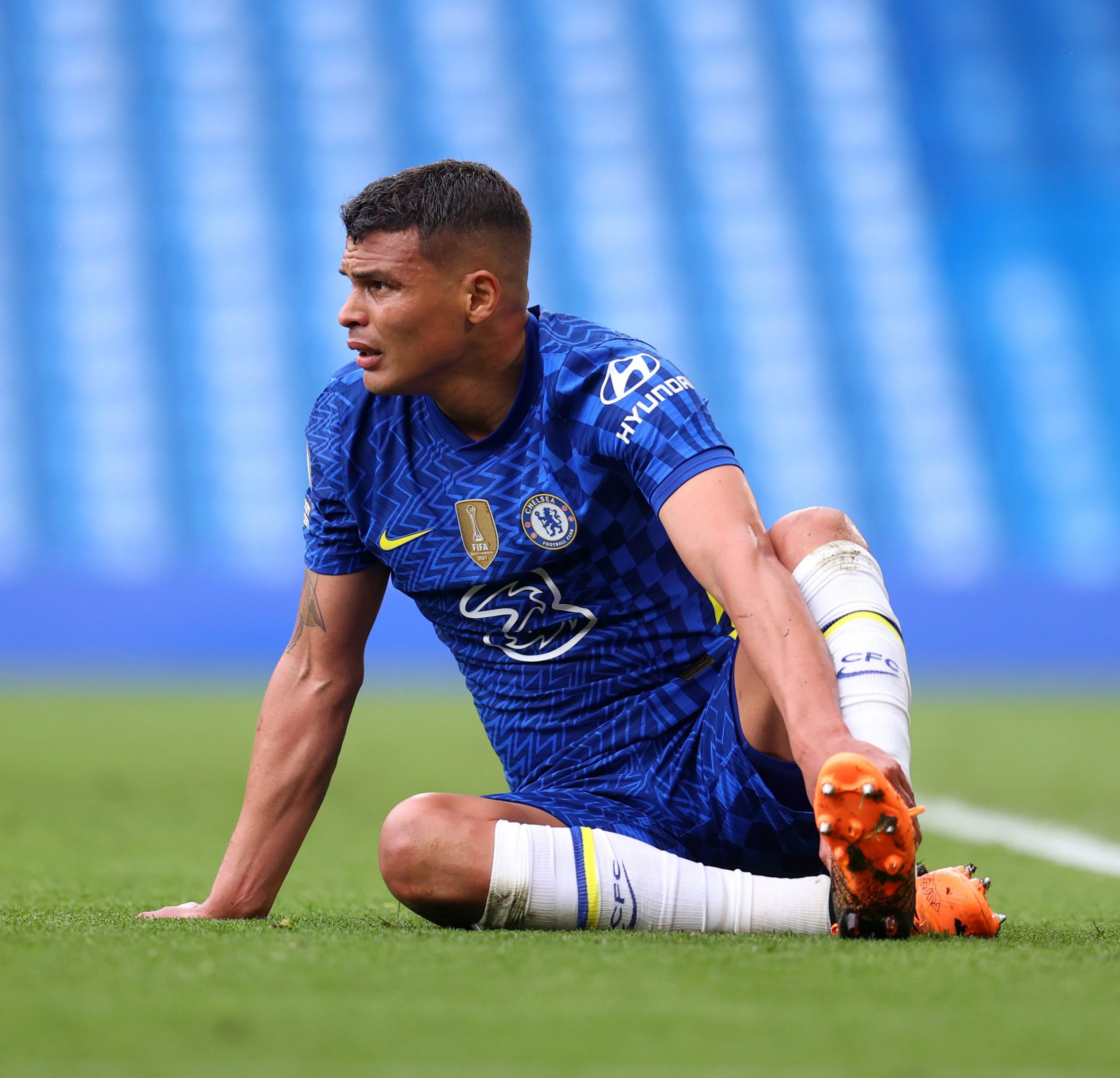 This is an old-school defender, forged from the late-noughties, learning his trade at Fluminese and AC Milan, before becoming the world's best defender in Paris who now blesses the Premier League with his presence in the twilight of his glittering career.
Virgil van Dyke
He's partnered at centre-back with van Dyke, who won 73.5% of his 200 duels, topping the dual success chart. The Dutch Rolls-Royce's return from injury to the Liverpool squad lifted them, after an underwhelming 20/21 campaign. Last season, he set a new Premier League record of 64 home league games without losing (winning 55, drawing 9), as he and the Reds proved they were back to their best.
Antonio Rudiger was the only central defender who had more goal build-up involvements than Van Dijk, who racked up 18 in total – one short of his opposite number.
Always as cool as a cucumber, the Reds' supreme centre-half chipped in with a handful of headed goals, though the majority of his graft was overseeing attacks around the halfway line and making remarkable recovery challenges. The king of composure is slowly but surely making a claim for himself as one of the best in Premier League history.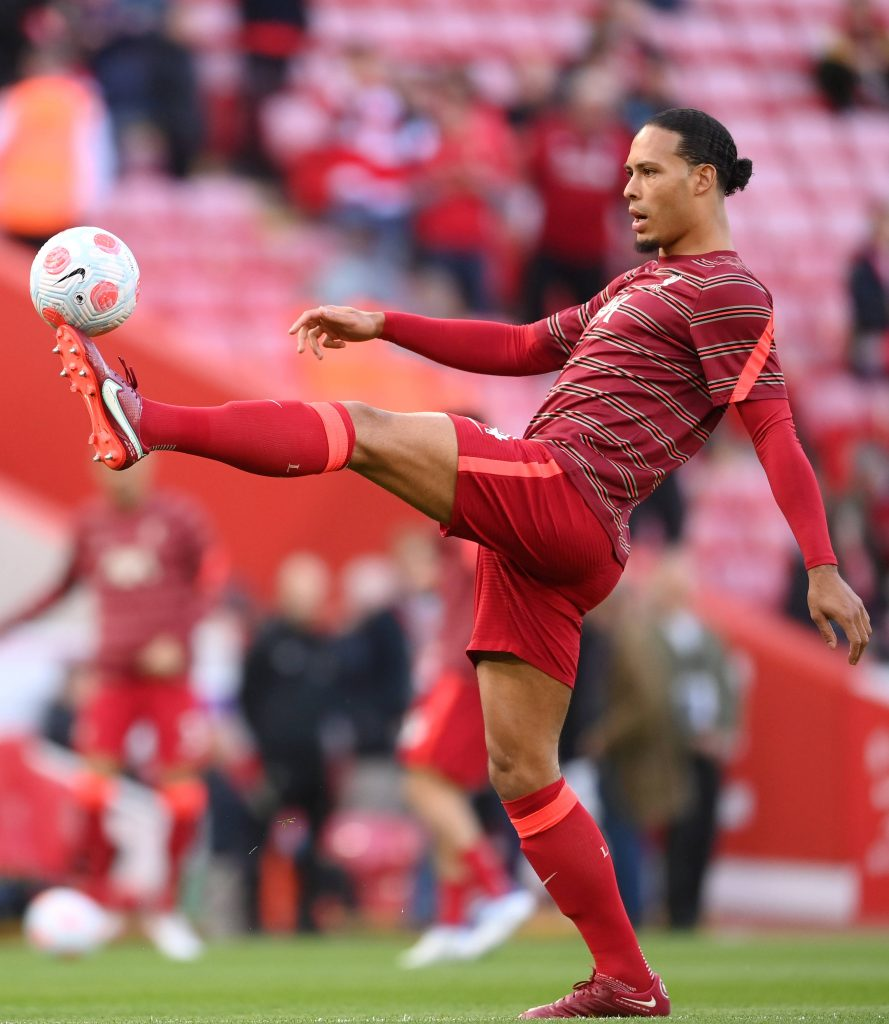 Full-Backs
Trent Alexander- Arnold
Alexander-Arnold set the standard for passing ability again. With the ball, there's no better right-back in the world. Debate amongst yourselves quietly please. His return of 12 assists and 2 goals seems tame for his own high standards, however he still created more chances (90) than any other player and completed the most long passes of any outfield player – 203 to be precise.
Those questioning his defensive ability can read this and weep: Trent won possession 235 times, more than any other Liverpool player. The 23-year-old is ripping up the rulebook and re-writing what a modern-day 'right-back' can be.
João Cancelo
Two-footed full-back Cancelo covers the left side in our squad. It says a lot about the talents of a defender who can manage to stand out in an all-star, title-winning team, game in-game out, on either side of the field. The Portuguese star can do no wrong in our eyes.
His manager Pep Guardiola is infamous for heavy squad rotation. Yet, Cancelo proved to be an undroppable force and forms an exclusive trio with Dani Alves and Lionel Messi as the only outfield players to have played 50+ matches in the same season under the supreme manager. The attacking rock scored a peachy goal from outside the area at St. James' Park to cap off his superb season.
Central Midfielders
Declan Rice
Anchoring a midfield three is West Ham United's most valuable asset, Rice. Ever since his debut with the Hammers, he's gradually upped his game to the very top level and gone beyond being a basic defensive midfielder, returning 5 goals and assisting 4 more in the last campaign.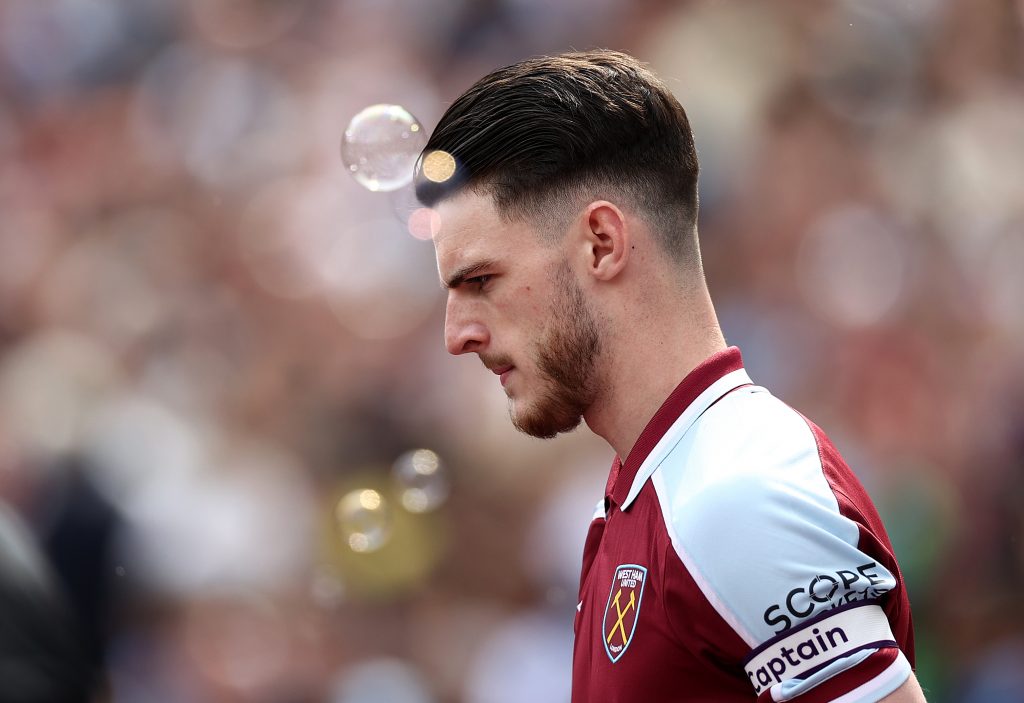 The English utilitarian showed his leadership minerals too, captaining his side in 22 of the 32 prem games he featured in, following in the footsteps of the departing club legend Mark Noble.
Kevin De Bruyne
Name a better midfielder player than Bruyne on his day. There aren't many you could even consider. The midfield maestro conjured up magical moments, spamming his signature sweeping six-yard crosses, drilled low and hard with wonderful whip and dip for easy tap-ins. One thing that stood out with ol' Kev was his pace. With the ball at his feet, he's deceptively rapid across the ground, and has the strength and skill to hold off challenges like nobody else.

He tops the pile for goal involvements per 90 minutes, averaging 1.12. Subsequently, he ended the campaign with his highest goals tally of 15 – four of which came in one game; three of those with his 'weaker' left-foot and inside 24 minutes. Some bloke. The Belgian also registered a somewhat underwhelming 8 assists, but each one was sumptuous and pivotal for Pep's team to lift the trophy yet again.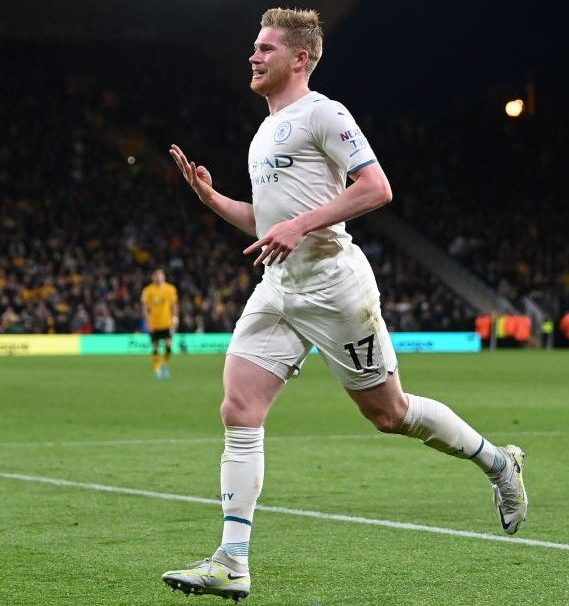 Bernardo Silva
If ever there was a footballer to fall under the 'exemplary professional' umbrella, then Silva would be holding it, mostly over someone else's head and with a warm smile.
The understated Portuguese playmaker and all round footballing force defies the laws of the beautiful game. At 5'8 he punches well above his weight with energy; he's reminiscent of N'golo Kanté but with more attacking prowess.
City's squad depth means most of Silva's brilliance came in the first half of the season, as he was rotated towards the campaign's climax. He assisted 4 goals and scored 8 himself–one of which a sensational volley to finish a cracking counter-attacking team move.
Understandably one of Guardiola's favourite players, Silva is freakishly versatile. Defensive midfielder, box-to-box number eight, either-sided winger, creative number ten, and false nine–wherever the manager feels his services are required most on the day, is where he'll play. Never before have we seen one man who regularly plays in as many different positions. And he does it consistently at the very highest level. An absolute menace when leading the Pep press, he's contrarily calm and comfortable when receiving the ball in his own box to start an attack.
Only Christian Norgaard covered more ground than Silva last season. In the 2859 minutes played, he averaged a distance of 11.99 kilometres per 90 minutes, totalling 281.6km. When not emptying his tank on the pitch, he's the coolest cat off it, often showing his charisma on camera for content creators (check his Chicken Shop date.)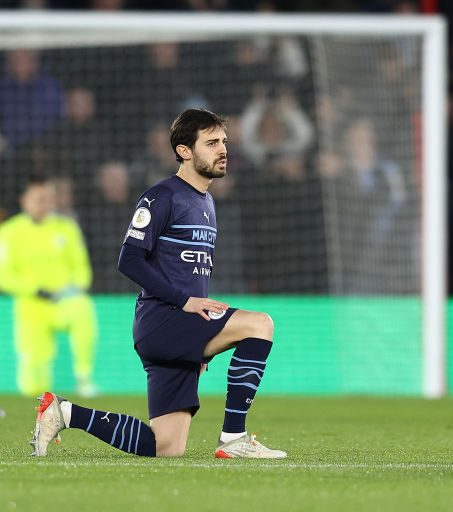 Forwards
Sadio Mané
Mané deserves to be the main man. His Liverpool tenure may have concluded, but the Senegalese winger left Merseyside with a respectable legacy. When Liverpool were chasing Man City in the latter half of the season, Mane's colleagues up front had a dip in form, and he upped his game exponentially, stepping up to provide precious points for the title-chasers–who only fell short by a point in the end.
All season long he exhibited an innate ability to seamlessly transition into a centre-forward and thrive in the role. The Reds' (ex-) number ten got 16 Premier League goals, though his excessive work rate and menacing dribbling can't really be quantified with stats.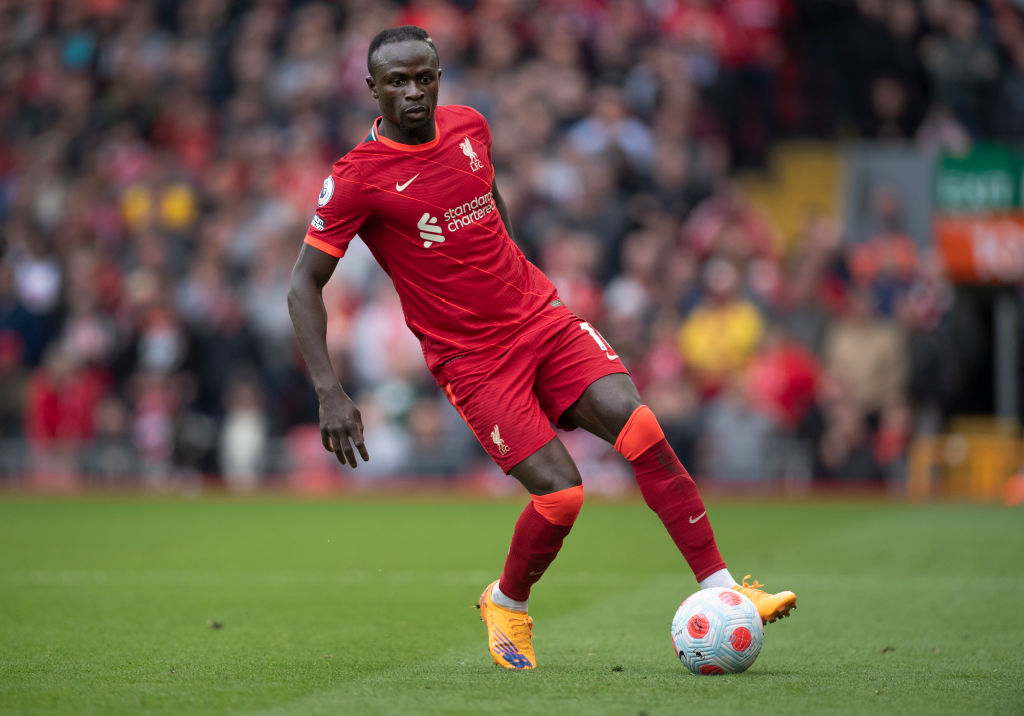 No Premier League team of the season would be complete without the Egyptian king. Mohammed Salah shared the Golden Boot award with Son, but surely bagged the goal of the season too. His incredible solo run and finish against Manchester City in their 2-2 draw at Anfield dropped many plenty of jaws.
An iconic modern great of the game, Salah further certified his legendary status with 23 goals and 13 assists in 35 games. He scored or assisted a goal every 77 minutes which was by far the best ratio of anyone in the 2021-22 season.
Son Hyeung-min
Hyeung-min had another brilliant solo outing for Spurs this season, who nabbed a fourth-place finish on the final day. The smiley South Korean sealed his season with a brace in the last match of the campaign, to finish joint top-scorer with an impressive tally of 23 goals – all from open play.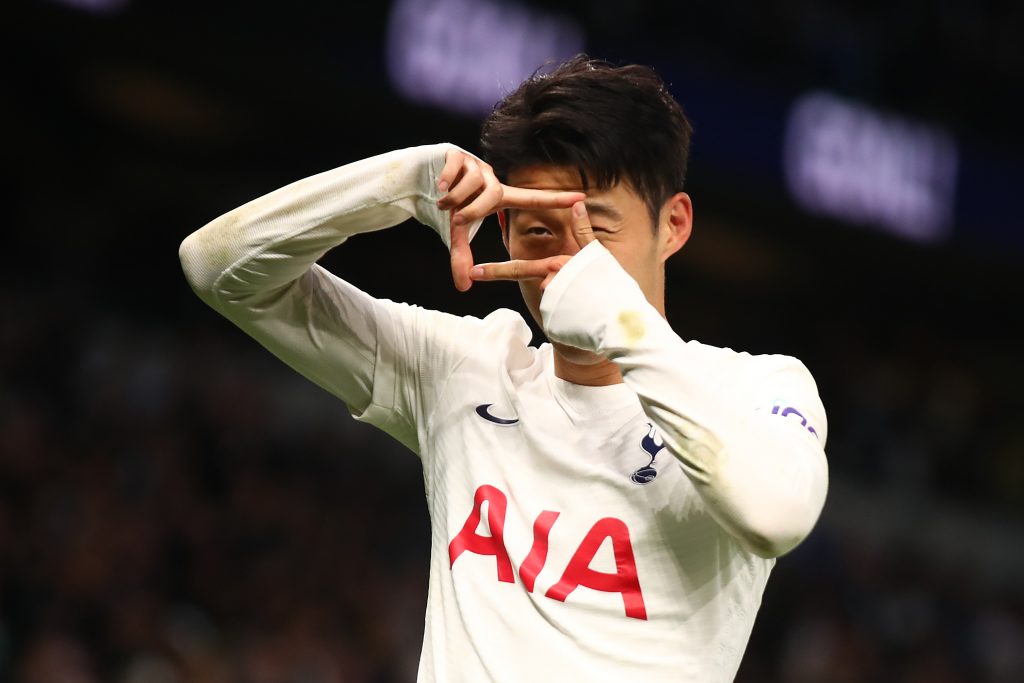 Coach–Pep Guardiola:
Will this guy ever let up? We doubt it. Pep became the most successful non-British manager in the English top-flight by clinching his fourth title. In steering his sky-blue ship to glory, the Cityzens finished with the joint-best defensive record, conceding 26 goals and keeping 21 clean sheets, while scoring the most goals (99). Their goal difference of 73 is the second highest ever in the Premier League, only 6 shy of their own record in 2017/18. With Pep at the helm, they have become an unstoppable force once again.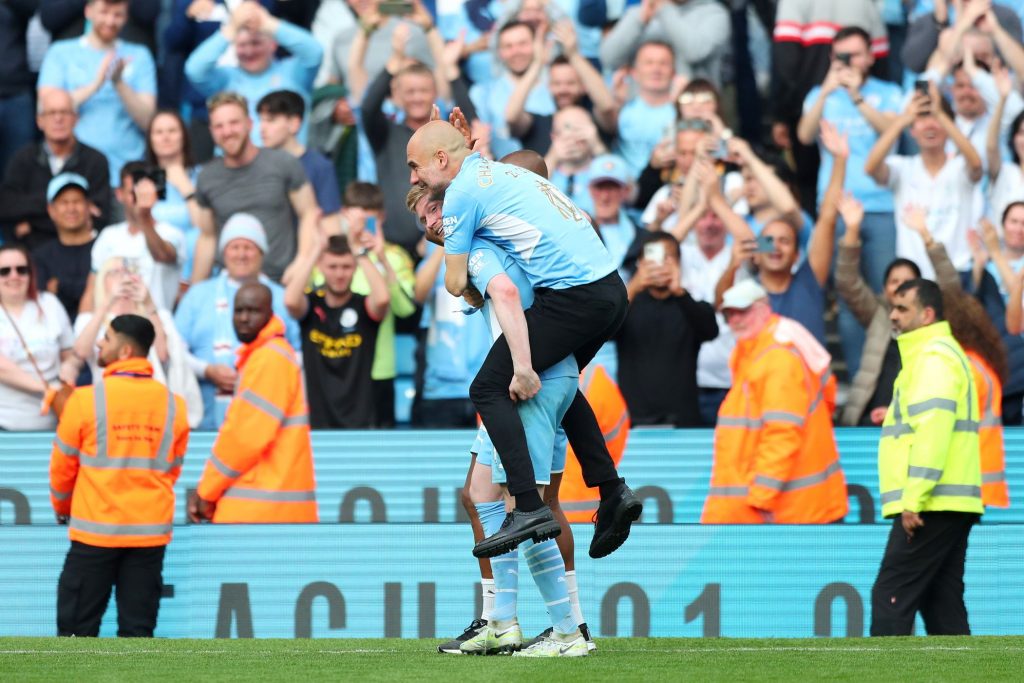 Player of the season: Kevin De Bruyne. Dare we say it, there's a waft of Zidane about KDB. Silky, unselfish, and comprehensively two-footed – amongst too many other attributes to mention. He is OTL's Premier League Player of the Season. A complete footballer.
Honourable super subs: J. Sá, M. Cucurella, R. Días, A. Rudiger, C. Gallagher, J. Bowen, C. Ronaldo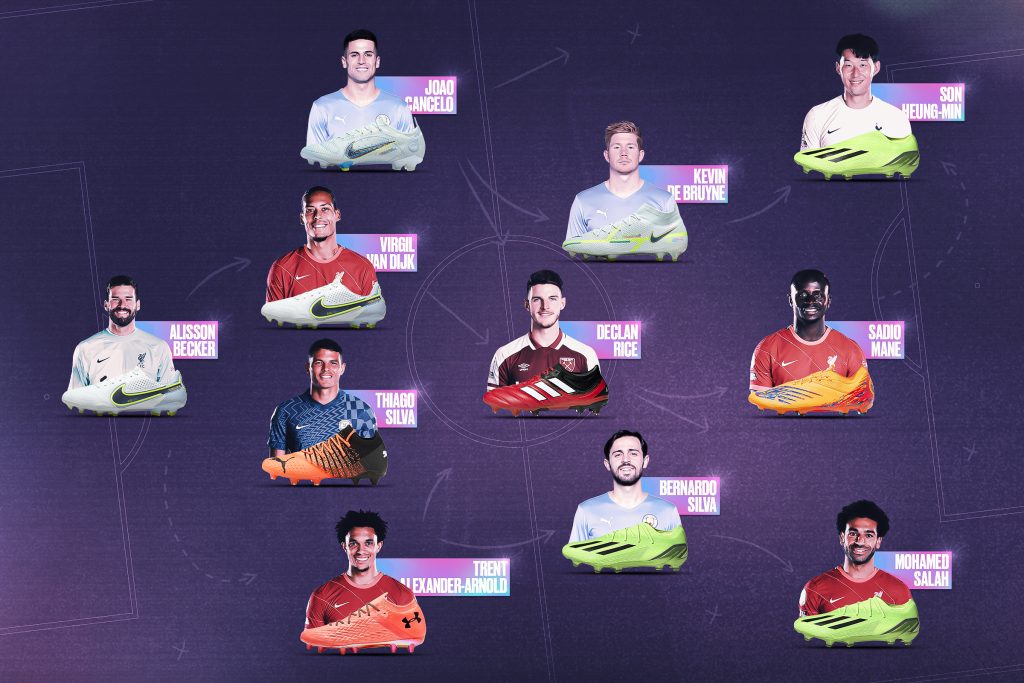 Agree with our team? Let us know in the comments below who made yours.
The return of the Premier League is upon us! Keep posted with On The Line for coverage of all the biggest football drops, news and advice all season long.