Panna
The street football game developed in The Netherlands in the noughties sees players (either 1v1 or 2v2) attempt to nutmeg the opposition in a small circular area. There was a trend where street footballers set up matches in public places as entertainment, challenging passersby.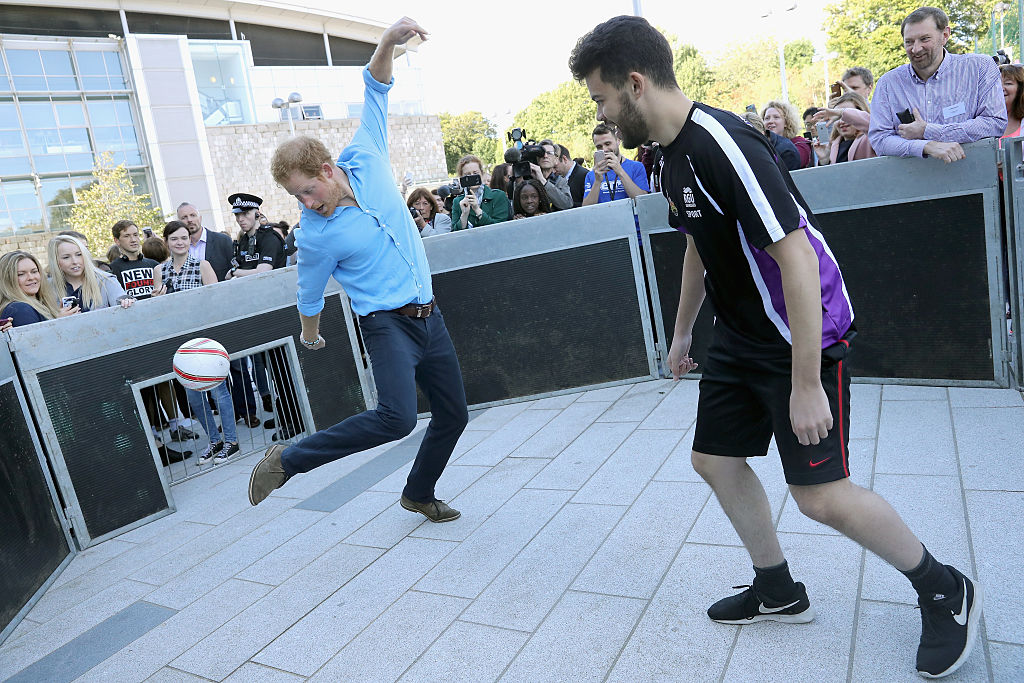 The term also applies to a nutmeg of any kind though. Few things in football are as satisfying as knocking it through someone's legs. In the wise words of Jimmy Bullard, "keep 'em closed!"
Headers & Volleys
A childhood classic. The objective is to score via a header or volley from outside the designated area around a single goal. Everyone starts with 10 lives, except the starting goalkeeper who gets 12. Outfield players lose a life for every miss or if the keeper catches the shot, then replace the goalie. "Post saves all" is a hotly disputed rule some like to throw in, whereby hitting any part of the goal frame saves the life. Players should take turns to shoot to prevent people from preserving lives by not taking shots, though this rule is not essential if everyone's keen to play.
A variant of the game also goes by the name Red Arse. The first to lose all their lives stands in the middle of the goal and bends over while the other players pelt the ball in aim of the poor loser's backside. Boys became men playing this one.
Best played in a concrete cage, you should wear indoor court football trainers. Despite the term 'indoor', they're perfect for outdoor, hard-ground use as well.
One Bounce
A firm playground favourite. The game requires at least two players, but the more the merrier. Ideally, 10-15 players stand in a large circle and kick, head, shoulder, knee and toe poke the ball to one another with 'one bounce' before the next person does the same.
Now, there are many variations to this one and we won't confuse you by talking through all of them. Plus, it should be straightforward for you to implement your own rules once you get the hang of the game. One example though is removing the need for the ball to bounce. This rule is known as 'one bounce max', and means the ball is allowed to bounce once, but it isn't compulsory, giving more creative freedom for players who want to spice the game up with a volley or header.
Feel free to vary the number of touches allowed (usually only 1) and the lives each player starts with, which is generally 3. These lives are lost when players fail to make a fair pass; the ball should be directly towards another person and not too short or excessively over their head. However, rules get dubious when judging fair passes.
Rules and names vary loads, with variants based around the number of touches players are allowed to take. The most common version seems to be One Bounce, One Touch', which is exactly as it sounds. Play anywhere with appropriate football footwear.
Padbol
The game fuses elements of squash and padel and is an official sport in its own right. Played in a padel-like indoor court, only smaller with dimensions of 10×6 metres. 2 players on each side use a size 4 football to score against the opposition by knocking the ball over the net. Points are won if the ball bounces twice or the opposing team fail to return.
It's one of the more obscure football-based spinoff sports, having only been founded in 2008, and courts are few and far between globally. We recommend reading the official FIFPA Padbol rules if you fancy giving it a go.
Footvolley
Just as the name suggests, is a hybrid combination of football and volleyball. Officially played on sand outdoors or informally anywhere, two players on each team must volley the ball over a net and score by hitting a winner or forcing the other team into failing to return. Both players must touch the ball before hitting it back over the net. Point-winning players earn the right to serve next and the server must rotate turns too. You can check out the complete set of official rules here.
Altinha
More of a ritual than a game, 'altinha' translates to "a little higher" and is a footballing tradition originating in the 60s on Ipanema beach, Rio de Janeiro.
On the surface, there's not much to it. There aren't any goals or losers–every player wins through the sheer enjoyment of keeping a football in the air as emphatically as possible. Altinha is a communal game played in good spirits, so you're essentially playing yourself.
For the authentic Brazilian experience, play barefoot on a sandy beach. The only other things you'll need are some pals and a ball, preferably a Mikasa ball. Altinha can be played anywhere though (within reason) and with anything vaguely resembling a football. A well-pumped size 4 or 5 will do. There's only one rule and it's no handballs. Altinha's beauty is in its simplicity, but you can of course jazz it up by adding silly rules.
The acclaimed short documentary 'Altinha' perfectly encapsulates the essence of the game and its inherent desire to empower people. Beyond its deep sentimental meaning, it's just a laugh and makes a change from being overly competitive with a football.
As mentioned, play barefoot on the sand if you can. If not, anywhere with any football footwear will do.
Teqball
A recent footie spin-off that's become very popular globally. In fact, it's been the fastest-growing sport by player and media engagement since 2018. Conceived in 2012 by three fellas from Hungary, Teqball combines football and table tennis. Using a specialist table, curved downwards, play one vs. one or two vs two.
Low pressure size 5 balls are usually used, with indoor footie footwear.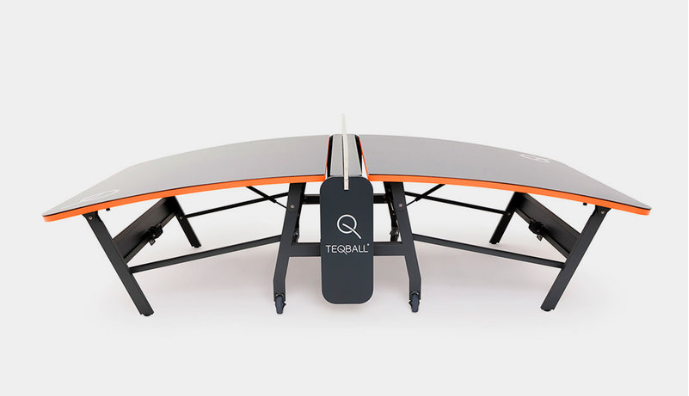 The basic rules are: 2 attempts to serve, 3 touch maximum in open play; teammates must pass at least once in a doubles match, cannot use the same body part consecutively to touch the ball, no handballs, cannot touch the table or opponents. Matches are best-of-three sets, with 12 points per set. See the complete set of rules here.
Ronaldinho was the first superstar footballer to help promote the game, and it's now on a promising quest to be recognised by the International Olympic Committee.
Now choose one to start with and get out there and play!