Football fans were left on the edge of their seats last Sunday (Dec 18th) as France sought to close the gap against Argentina's phenomenal 2-0 lead that was left unchallenged until the 80th minute of the match.
In what looked to become a landslide game for the Albicelestes, with Lionel Messi scoring a penalty in the 23rd minute, and Mac Allister providing a phenomenal assist to Angel Di Maria's goal in the 36th, a certain player pulled out all the stops to draw the teams even…
It was none other than Kylian Mbappé who came to Les Bleus rescue, scoring a sensational 2 goals within the space of just 97 seconds that had the South Americans quaking in their boots.
The first, a penalty within the 79′, the second a fantastic goal in the 81' that saw Mbappé put one past Argentina's unsuspecting Emiliano Martinez.
Drawing the sides level at 2-2 at full-time, 30 minutes of extra time was all that stood between the two teams and the World Cup.
But arguably, nobody quite anticipated such a battle of the greats, with Argentina's Messi and France's Mbappé going head to head in a desperate attempt to carry their teams forward into victory.
Messi soon brought the South Americans 3-2 up in the 109th minute, however, the short-lived victory again saw rival Mbappé claw one back to draw the teams level with a score of 3-3 following his penalty in the 117th.
Mbappé here broke records unbeaten for decades and became the first player to score a World Cup final hat-trick since Sir Geoff Hurst in 1966- a tremendous feat!
Again, time was called, and a nail-biting tie left fans wondering who would take home the title as the 2022 World Cup winners of Qatar following penalties.
Despite successful penalties against Martinez by France, the first by Mbappé and the second by Randal Kolo Muani, it was Martinez's save of Kingsley Coman's penalty attempt and Aurelien Tchouameni's wide ball, that ended the results in a 4-2 win for Argentina by penalties.
And just like that… history was made.
They'd done it. Argentina had secured their win for the first time since Diego Maradona lifted the World Cup in 1986.
But whilst the world celebrates Argentina's win and credit must be paid to 23 year-old Mbappé, there's likely no one more deserving of recognition this world cup than Messi…
After 690 minutes, with 18 shots on target, 7 goals (4 being penalties), 3 assists, 5 Man of the Match wins, and winner of the adidas Golden Ball at Qatar this year, it's safe to say Messi has overtaken Brazilian legend Pelé in becoming the World Cup's all-time top goal scorer.
Let's also not forget his contribution towards football since starting his senior career 18 years ago…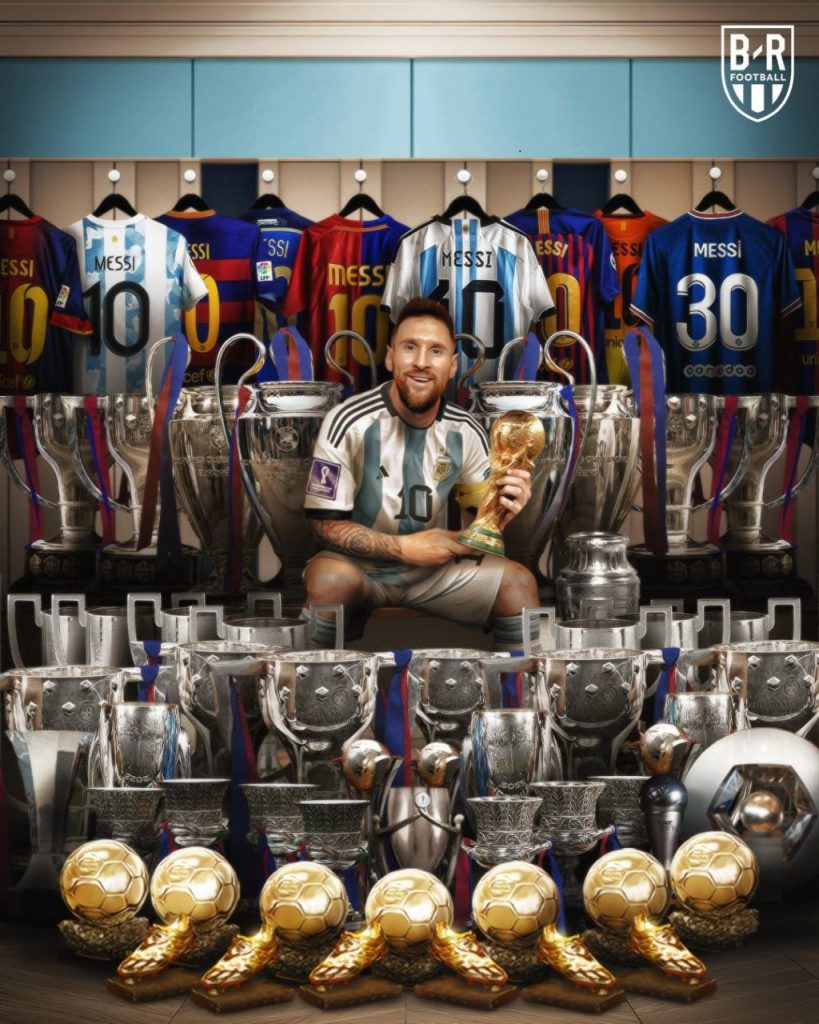 Having secured a brilliant selection of silverware over the years, for Messi there was always one trophy just out of reach. A sight he'd had his eyes set on since the days of idolizing Maradona and a trophy that would bring his total to a round 4 0… the World Cup.
In what many are calling the 'The Coronation of Messi' and the crowning of his career, the football legend saw his dreams come true in making World Cup history when taking to the podium.
Rubbing his hands in anticipation of taking up the cup, the Argentine Forward shook the hands of Fifa President Gianni Infantino and Qatar's Emir Sheikh Tamin before being adorned a black bisht – a traditional men's cloak associated in the Arab world as a "a dress for an official occasion and worn for celebrations".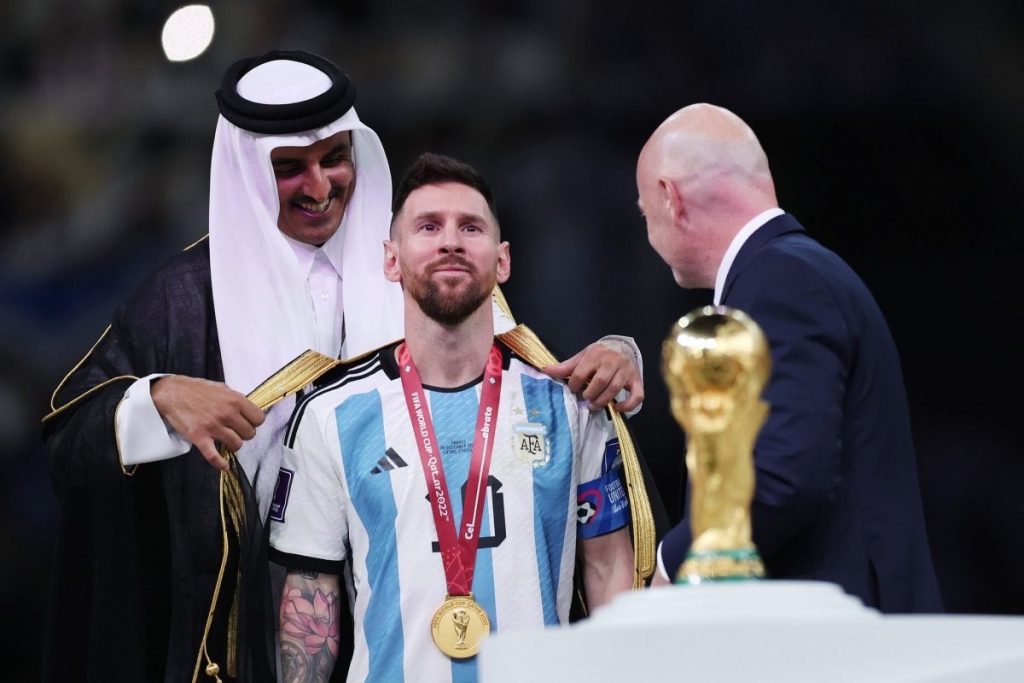 Wearing the robe of royalty, Messi can be seen doing a celebratory jig in his honorary Bisht with his teammates here:
Having played 5 World Cup tournaments in the time of his career, Argentina have not won a world Cup since Maradona last lifted the trophy in 1986.
As a player who grew up idolizing Maradona, and one who has since been living in his shadow throughout his football career, it seems Messi no longer has anything to prove as he steps out into the limelight.
Whilst the future of Messi had previously been conclusive, with the 35 year old football star having claimed Qatar 2022 would be his last World Cup, Messi has since commented:
"I want to enjoy a couple more matches being world champion"

Lionel Messi on his football career.
It seems that while Messi has nothing left to prove, he isn't quite ready to let go of the dream that made him.
Lionel Scaloni, manager of Argentina stated in response to Messi's future within football:
"We need to save him a spot for the [next] World Cup…"

"If he wants to keep playing, he will be with us. He is more than entitled to decide if he wants to keep playing and what he wants to do with his career. It is such a huge pleasure to coach him. Everything he transmits to his teammates is something unparalleled that I have never seen before'.

Lionel Scaloni on Lionel Messi
Will Messi take up the opportunity and play for Argentina one last time in 2026? Time well tell…