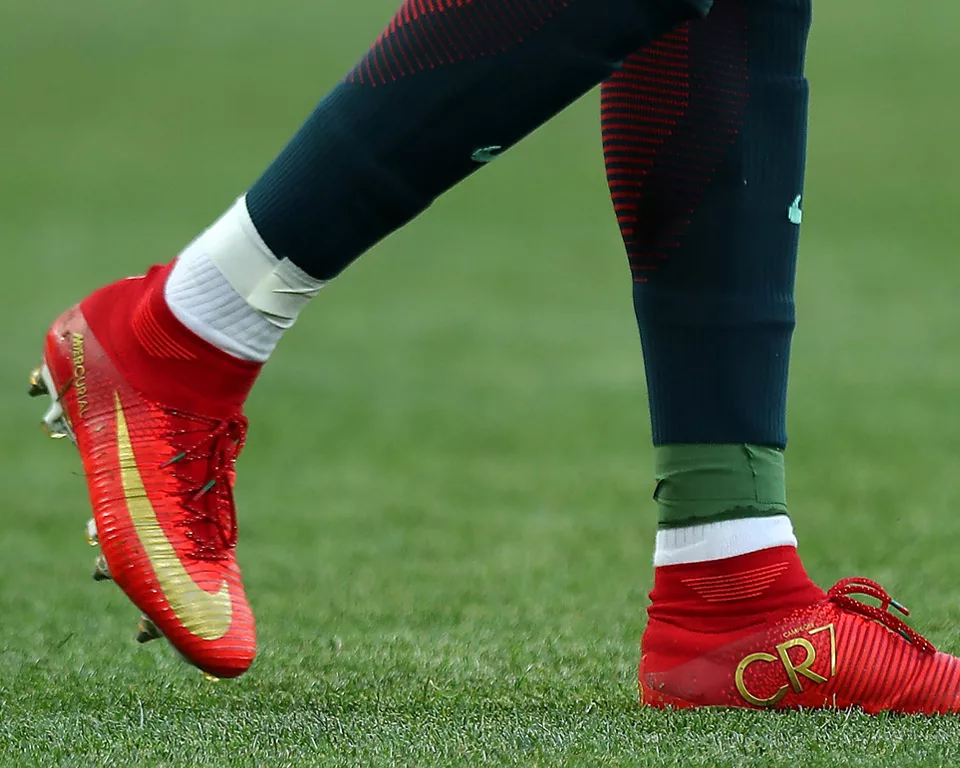 With a total of 32 individual designs specially crafted for the Portuguese star, each boot has come to share a part in telling his story, honouring his numerous accomplishments, aswell as celebrating his legacy as the greatest Nike athlete to ever grace the world stage.
Cristiano Ronaldo's remarkable collection of 32 boots, spanning over 12 years of his extraordinary career, offers a little something for everyone. (Although, if you ask us to pick a favourite, we might need all day to decide!)
#1. Mercurial Superfly II CR 'Safari' – October 2010.
First up, we have the Mercurial Superfly II CR 'Safari', the boot that started it all…
Putting an exotic twist on the classic profile that dominated the Mercurial series leading up to to 2010, the unmistakable safari print became synonymous with Ronaldo's lightning speed and effortless style.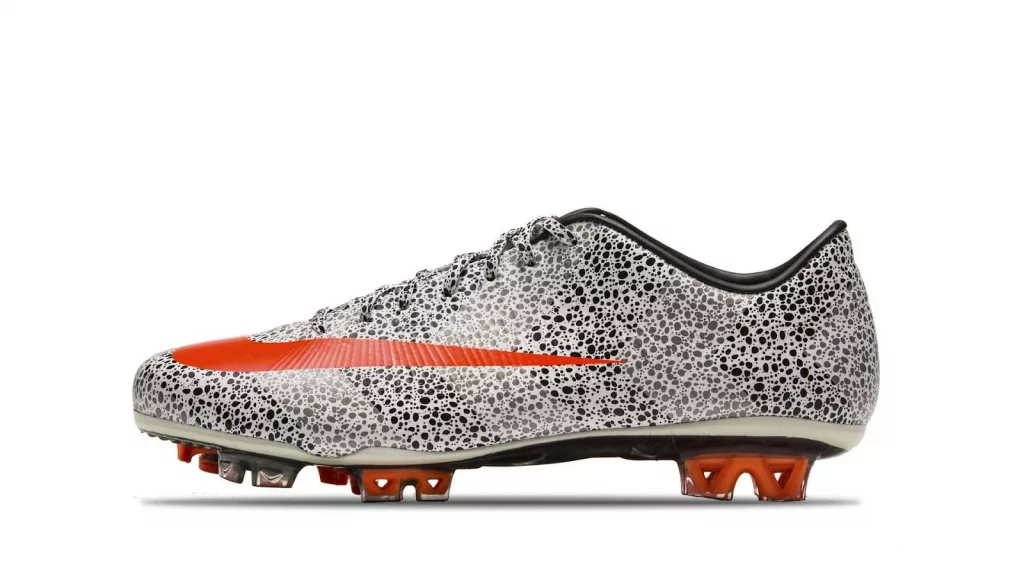 Making its way into the limelight for the first time in the Madrid derby in Novemeber 2010, the world couldn't quite anticipate just how significant it would be in influencing its later designs…
#2. CR Mercurial Superfly III 'Safari Black' – April 2011.
Bold is better, wouldn't you agree? Well it certainly seemed to be at the forefront of Nike's marketing campaign at the time, and who can blame them after the success of their first Safari colourway?
Sleek, stylish, and distinctive, the geometric pattern dominated the landscape of the boot, with the signature swoosh wrapping around the forefoot.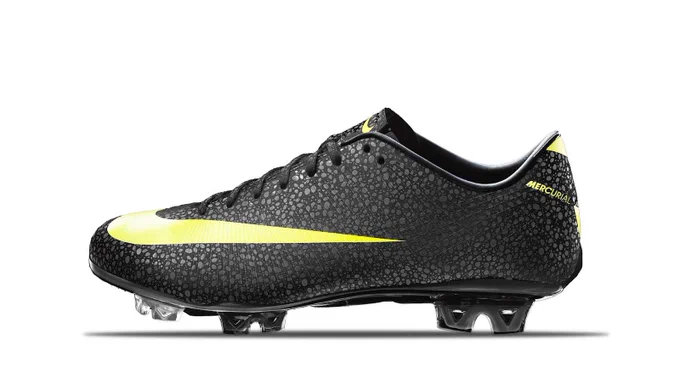 This boot was worn by Ronaldo in the 2011 Copa del Rey final, where he emerged the only player to score a goal in the game against Barcelona.
#3. Mercurial Vapor Superfly CR7 III – November 2011.
There's something altogether quite nostalgic about this one…
Whether it reminds you of a naughties coca-cola ad campaign or those 1p liquorice chews you'd find in the sweet shop back in the day, there's something to be said about competition bringing about the inspiration of new and exciting designs.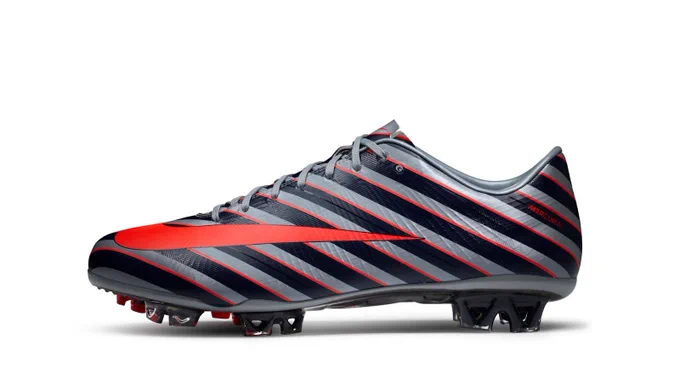 Unveiled at what can be considered the height of Nike and adidas's rivalry, the Swoosh painted a fresh impression with its 50-50 pinstripe split and block stripes that sought to trump adidas's signature stripes.
#4. Mercurial Vapor VIII CR – November 2012.
As a player synonymous with speed, is it any wonder that Nike sought to situate their innovative boot tech on the feet of the world's most prolific player?
Taking inspiration from track-spike running shoes, the Vapor VIII placed Ronaldo's lightning agility at the heart of its design, with a unique colourway taking inspiration from his signature clothing range that became the catalyst for the CR7 marketing scheme.
Sleek, right? We thought so!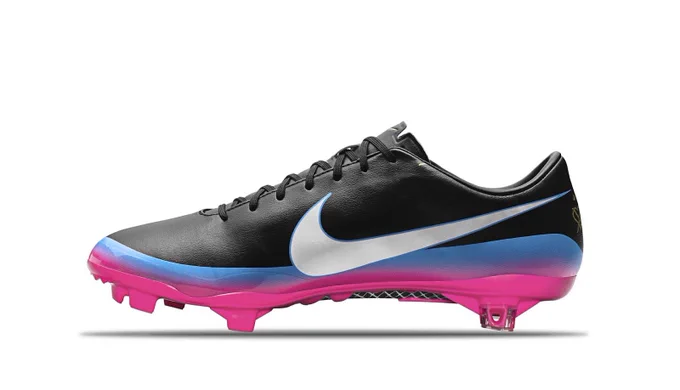 #5. Mercurial Vapor IX CR SE – January 2013.
Dialing down on the exotic colourways of the Mercurials gone by, the Vapor IX CR SE was unique in its own right, with just 100 pairs of the boot hitting the market.
Crafted to celebrate Ronaldo's astounding 2011/12 season, the numbers situated to the heel pay homage to the player's milestones, making it a highly sought after piece of footballing history.
The milestones consisted of:
1- Ronaldo's first Spanish Championship
9- Nine Goals scored for Portugal
14- Fourteen games played for the national team.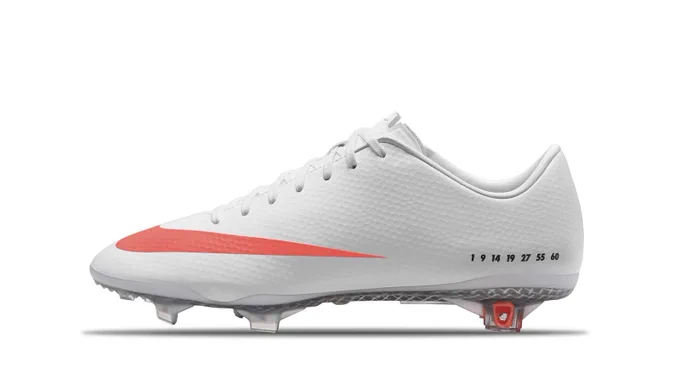 19- Ronaldo became the first player to score against all nineteen La Liga teams.
27- Marking his age in 2013.
55- Referring to the fifty-five games played in all tournaments for his club.
60- Referencing the 60 goals scored in all tournaments for his club.
If there's any boot to mark the achievements of Ronaldo, it's this one! But, good luck to anyone who can still get their hands on a pair, as they're as rare as hen's teeth.
#6. Mercurial Vapor IX CR SE – March 2013.
The world of football and cycling collide with this tantalizing take on the magnificient Mercurial.
Inspired by the design of the 'Rainbow Jersey' worn by the cycling world champion to make them more visible to their competitors, you'd be hard pressed to not become the center of attention donning these sleek silos.
But where controversy strikes, is in the swoosh. While some may say it stands out for all the wrong reasons, we can't quite get enough of Nike's attention to detail in synchronising the colours of this colourway!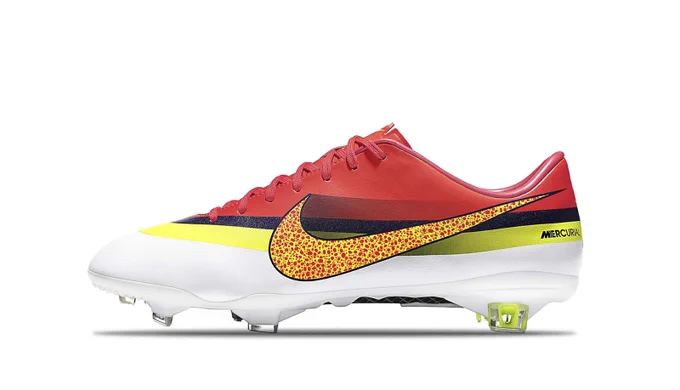 #7. Mercurial Vapor IX CR 'Galaxy' – October 2013.
Evoking an out of this world design, Nike's depiction of the Star Vela Supernova had player's star struck with its brazen colourway and digital print.
In true Nike fashion, every detail was considered in this design with a seven star path print paying homage to Ronaldo's shirt number.
But while aesthetically impressive, it was Ronaldo's 100th away goal in his 106 away apperances for Madrid in November 2014 that stole the show.
Oh, and who can forget his 19th league hat-trick? That's one player who likes to shoot for the stars.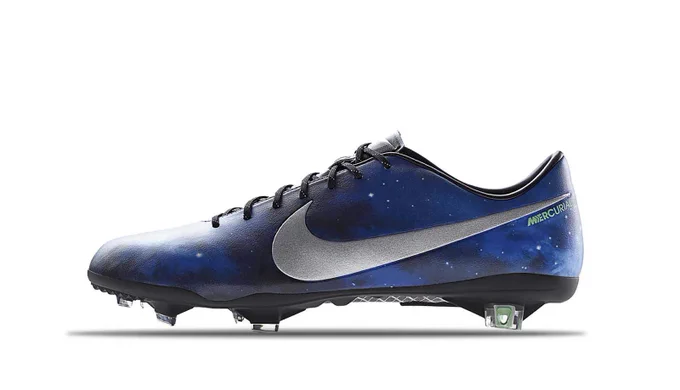 #8. Mercurial Vapor IX CR – April 2014.
These were not easy to come by… but then again, the same could be said on finding a player who averaged a goal a game and established themselves as the fastest player in the history of Madrid.
Oh, and not to mention totalling an astounding 200 goals scored for the team…
It's no wonder Cristiano landed a 2013 Ballon d'Or success.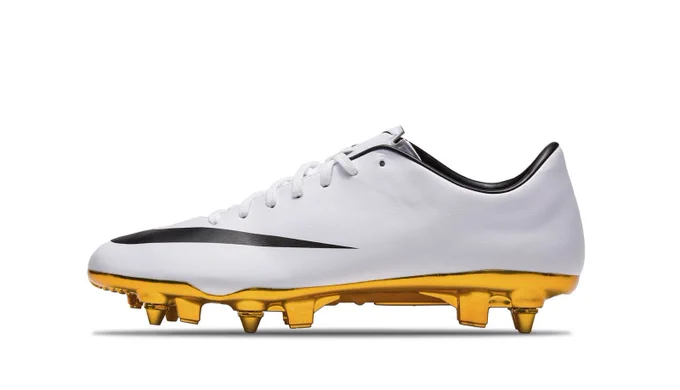 #9. Mercurial Superfly IV CR7 – October 2014.
"CR7" is here to stay.
In a move towards solidifying Ronaldo's legacy and influence on the pitch, Nike incorporated the iconic CR7 branding as part of the series for the first time with the launch of their Superfly IV CR7 in 2014.
The addition of the dynamic fit collar became a first in the series, as a means of better securing the player's foot in the boot.
It was in December 2014 that Cristiano secured a hat-trick while wearing these boots, to cement an electrifying display of footwork in his 178th league game, earning him the title of the fastest player in league history to score 200 goals.
And if that wasn't enough, he even went on to secure his second FIFA Club World Cup title in them after securing a 2-0 win against San Lorenzo.
Impressive, right?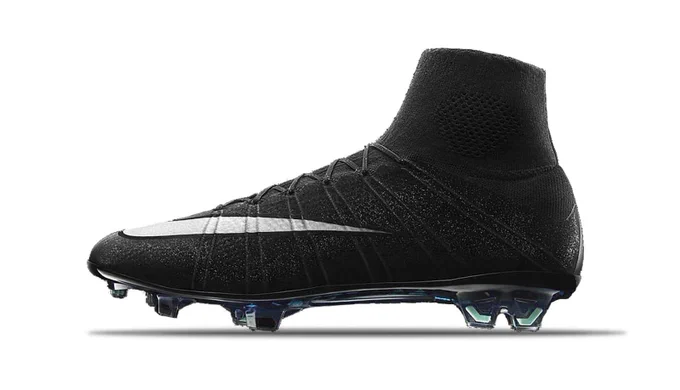 #10. Mercurial Superfly IV CR7 SE 'Rare Gold' – Jan 2015.
Making waves within the sporting world for securing his third Ball d'Or success, Nike sought to celebrate their star player with the signature "Superfly IV CR7 SE" in a shimmering 'Rare Gold' that was exclusively worn by CR7 following on from the awards ceremony in January.
With just 333 pairs released worldwide, the 'Rare Gold' title took on the meaning of 'rare' quite literally.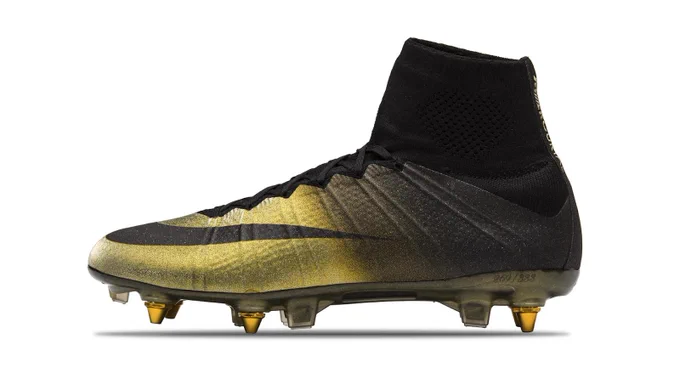 #11. Mercurial Superfly IV CR7 'Silverware' – April 2015.
As the silverware collection continued to grow in the lead-up to April 2015, the Superfly IV CR7 'Silverware' boot proved to be the crowning achievement.
These boots marked a turning point in Ronaldo's career, as he netted an astounding 5 goals in a single league game while donning them, and their shimmering presence spoke volumes.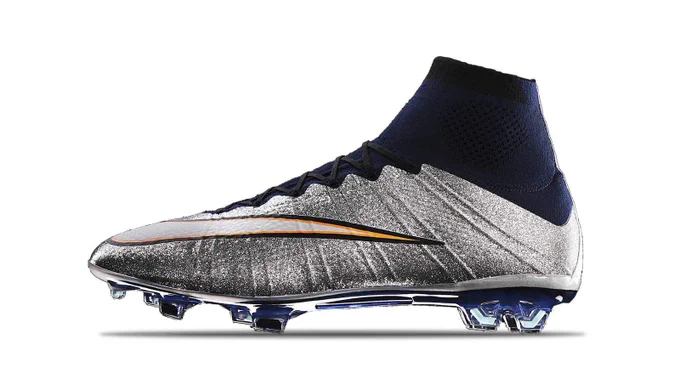 But that wasn't the only remarkable feat. Cristiano also etched his name in the history of football by scoring his 300th goal for Madrid, becoming the first player ever to achieve the remarkable feat of scoring 50 or more goals in a single season on five separate occasions.
And let's not overlook the fact that Ronaldo broke Madrid's hat-trick record with his 29th, solidifying his place as a football legend!
#12.Mercurial Superfly IV CR7 '324k Gold' – Oct 2015.
With each new boot release, Nike continues to masterfully encapsulate the legacies of their most revered athletes, and the CR7 "324k Gold" is no exception.
Ronaldo's journey to becoming the club's all-time leading scorer, a milestone marked by precisely 324 goals, was nothing short of remarkable.
What's even more astonishing is that this achievement was reached in just 311 games, with every goal scored while wearing a pair of Mercurials!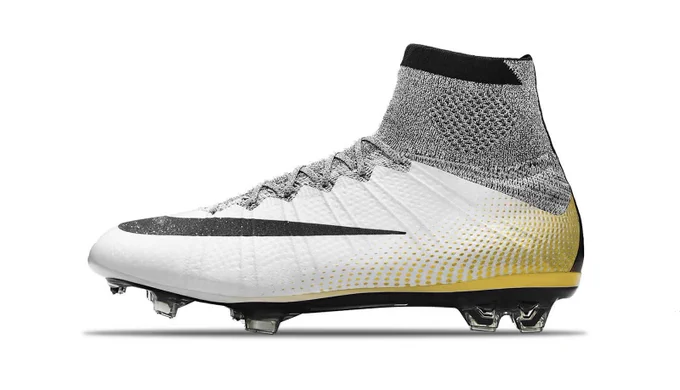 #13. Mercurial Superfly IV CR7 Chapter 1: 'Savage Beauty' – October 2015.
Marking the first pivotal chapter in his career, Nike encapsulated Ronaldo's sesnational playmaking through an array of seven distinct Mercurial Superfly CR7 boots.
The first of these took on the name of 'Savage Beauty', taking its inspiration from the volcanic Portuguese island of Madeira, with its distinct fiery aesthetic and lava inspired graphics.
Just a few months later, in December 2015, Ronaldo set an altogether new record in these boots for the amount of goals scored in the group stage of the UEFA Champions League, totalling 11 goals.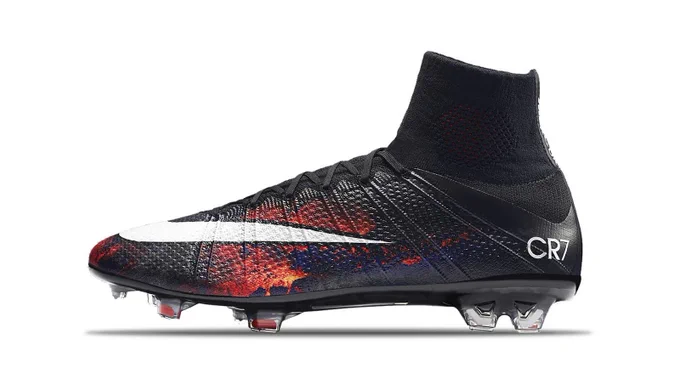 #14. Mercurial Superfly CR7 'Quinhentos' – March 2016.
Surpassing 500 career goals, the Mercurial 'Quinhentos' followed in similar fashion to the "324K Gold", taking inspiration from the Mercurial Vapor 3 colourway of the time, to mark his exceptional achievement.
With a distinct CR7 logo placed on the heel, alongside a textured Dynamic Fit Collar, the Quinhentos was situated at the height of a technologically advanced boot that would elevate the footwork of any player.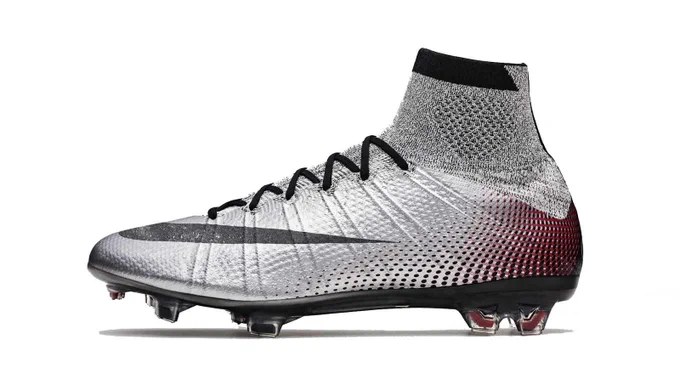 #15. Mercurial Superfly CR7 Chapter 2: 'Natural Diamond' – March 2016.
The second Chapter of the CR7 boot series saw Nike unveil a jaw-dropping design that centered its inspiration from Ronaldo's departure from his childhood home in Madeira to Lisbon, that would see him embark on his mission to become a professional football player.
One thing's for sure, it's safe to say he succeeded!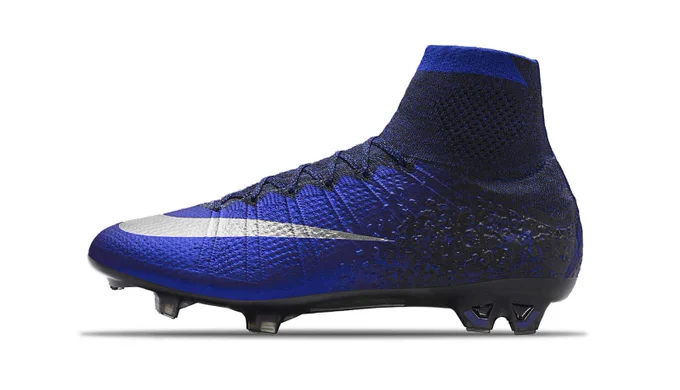 #16. Mercurial Superfly V CR7 Chapter 3: 'Discovery' – November 2016.
Chapter 3 in Ronaldo's remarkable career story aimed to pay tribute to the pivotal moment when he played for Sporting Lisbon against Manchester United on August 26th, 2003. That match would ultimately convince Sir Alex Ferguson to bring the teenage sensation to Old Trafford.
Released in November 2016, the distinctive split-color combination of these boots perfectly symbolized Cristiano's innate ability to shine brightly amid the competition.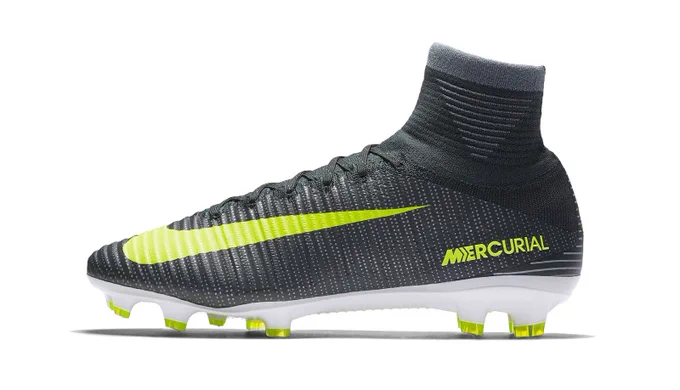 A fitting colorway for a player who was tailor-made for greatness on the football pitch!
#17. Mercurial Superfly CR7 'Vitórias' – December 2016.
Racking up a considerable amount of silverware, the 'Vitorias' celebrated all of Ronaldo's lasting achievements in his time with both his club and country, reflecting on his previous 12 months.
Having secured his fourth Ballon d'Or, in addition to a UEFA Champions League title and the EURO 2016 Championship, it's evident why Nike chose the name 'Vitorias' for this Superfly. In Portuguese, 'Vitorias' translates to 'Victories,' and Ronaldo had certainly amassed quite a few of those!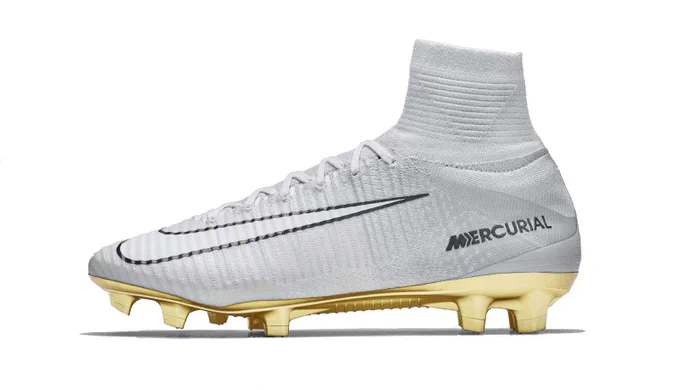 #18. Mercurial Superfly CR7 Chapter 4: 'Forged For Greatness' – April 2017.
Continuing to commemorate Ronaldo's enduring achievements, Chapter 4 highlighted a pivotal moment in the career of the number 7, recalling his transition to the iconic number seven shirt at Manchester United.
Released in April 2017, these boots were prominently worn during the Champions League Final against Juventus in Cardiff.
The outcome? A remarkable 4-1 victory, with two of those goals coming from the main man himself.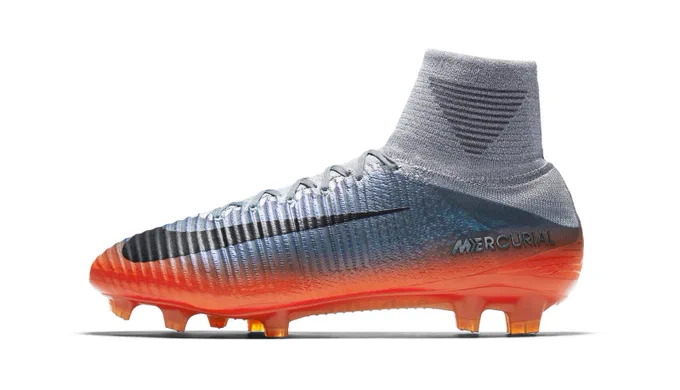 #19. CR7 Mercurial 'Campeões' – June 2017.
Commemorating Portugal's EURO 2016 Championship title, Ronaldo made his way onto the pitch in a pair of boots that were designed just for him- the CR7 Mercurial 'Campeões'.
Donning the team colours that are synonymous with the Portugal side, alongside a golden soleplate, and flush sockliner, the 'Campeões' celebrated Ronaldo's national pride.
These boots were never made available for retail, making them a rare and elusive item that only the main man himself could possess.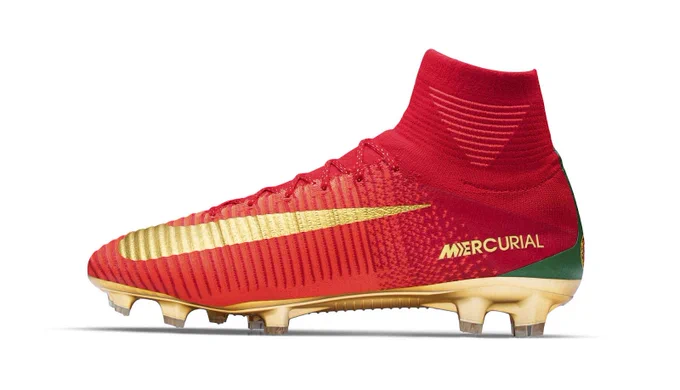 #20. Mercurial Superfly CR7 Chapter 5: 'Cut To Brilliance' – September 2017.
Following on from his staggering £80 million transfer to Real Madrid in 2009, Chapter 5 of the CR7 Mercurial saga took inspiration from his time with the club.
CR7 debuted the new release for the first time during Real Madrid's Champions League matches against Borussia Dortmund and Tottenham Hotspur in September 2017
#21. Mercurial CR7 'Melhor' – October 2017.
Much like the Chapter 5 boot released just a month prior, Nike aimed to acknowledge and honour Ronaldo's status as the world's best player with a release that revolved around illuminating brilliance on the pitch.
What better way to achieve this than by continuing the trend from the previous month and featuring diamond detailing on the upper?
Oh, and by the way, did we mention that 'Melhor' is Portuguese for 'Best'?
Nike are at it again!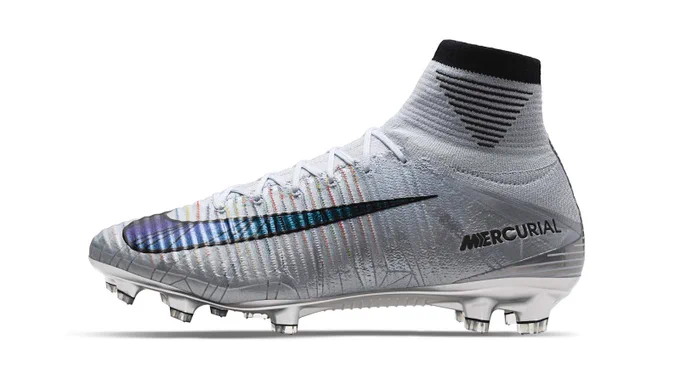 #22. Mercurial Superfly CR7 'Quinto Triunfo' – December 2017.
With another boot came yet another Ballon d'Or.
In honour of Ronaldo's fifth Ballon d'Or award, the 'Quinto Triunfo' took the Nike swoosh to the next level by embossing the years of his previous and current awards at that time within the swoosh itself. These years included 2008, 2013, 2014, 2016, and 2017.
It's safe to say that the 'Quinto Triunfo' might just be one of the finest CR7 boots ever created, wouldn't you agree? We certainly think so!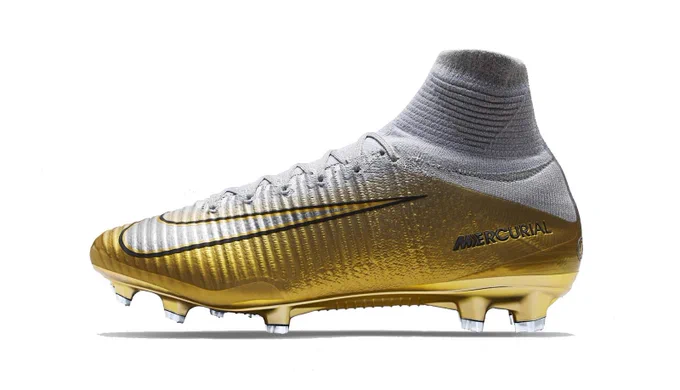 #23. Mercurial Superfly CR7 Chapter 6: 'Born Leader' – March 2018.
Last, but certainly not least in the Chapter series of CR7's finest boots, the 'Born Leader' dropped ahead of the 2018 World Cup, a design that would solidify his transition as Captain of his national team.
Drawing inspiration from Portugal's illustrious history of sea exploration, the swoosh design was a homage to their past. Additionally, the 'C' positioned on the ankle was strategically placed to cement his legacy and underline the remarkable journey he had undertaken on his path to stardom.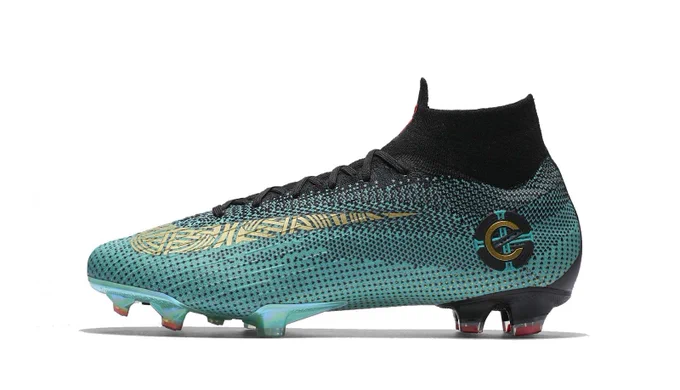 #24. Mercurial Superfly CR7 Chapter 6: 'Ediciao Especial' – June 2018.
Throughout 154 games played for his country, Ronaldo secured more goals than any European player who came before him.
To commemorate such a feat, the 'Ediciao Especial' showcased a unique alternate colourway to what was seen of his previous Chapter 6 boots.
With 154 games, came 154 pairs released on the general market.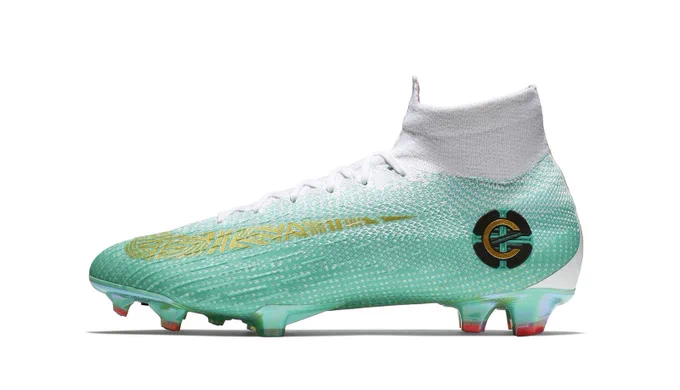 Good luck getting your hands on a pair of these unless you're willing to pay the big bucks on the re-sale market!
#25. Mercurial Superfly CR7 'China' – July 2018.
Tailored specifically for the Chinese retail market, the 'China' CR7 boots represented a limited-edition Mercurial release adorned with a distinctive interwoven pattern. This intricate design seamlessly integrated an ancient boat compass bearing the initial "C" of the captain.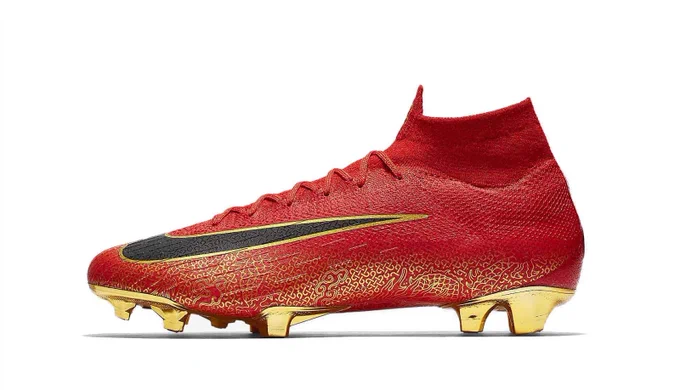 With a strategic emphasis on targeting the Chinese market, these boots featured a unique Chinese-character version of Ronaldo's signature CR7 (C罗) prominently displayed on the heel, proudly embracing the cultural connection.
#26. Mercurial Superfly CR7 Chapter 7: 'Built On Dreams' – September 2018.
The final chapter in the CR7 saga, Chapter 7 was of special significance as it concluded the CR7 series that was 'Built On Dreams'.
With the player's number 7 situated in the graphic of the forefoot, the Chapter 7 Mercurial not only paid homage to Cristiano's undeniable presence on the pitch, but even donned a profile that was reminiscient of the carbon fiber Mercurial SL boots of a bygone era.
Complete with a vibrant red upper transitioning into a gleaming silver, and adorned with CR7 branding throughout, Nike brought the Chapter series to a brilliant and fitting conclusion.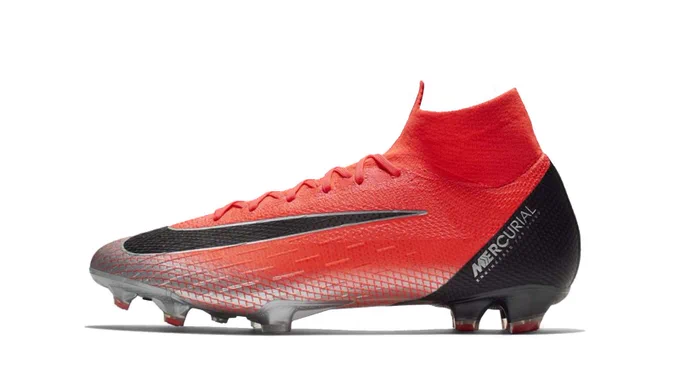 #27. Mercurial Superfly CR7 SE 'Cristiano' – May 2019.
It doesn't require a football enthusiast to recognise the influence behind this design…
In a gesture to commemorate his first-season Serie A title victory, Nike presented Ronaldo with a special edition CR7 Mercurial Superfly VI.
These boots seamlessly merged the iconic white and black colors associated with Juventus, incorporating striking details and gold accents that combined 'CR7' and 'Cristiano' on the boot's side.
The result was a visually captivating fusion of bold elements that unmistakably embodied the essence of Ronaldo.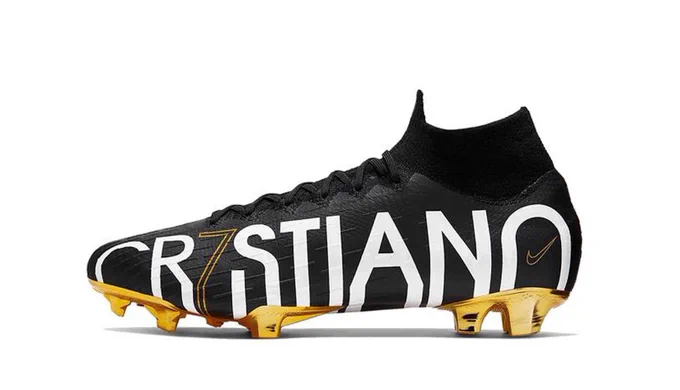 #28. Mercurial Superfly CR7 'Shuai' – July 2019.
Released as a limited edition, the 'Shuai' Mercurial was a tribute to Ronaldo's connection with China and notably the first and only signature CR7 design in the Mercurial XIII range.
Featuring a tasteful graphic print showcasing the Chinese characters 'Tong Shuai,' this design fittingly translated to 'Stylish Commander.' This phrase paid homage to Ronaldo's remarkable playmaking skills and his exceptional style that commanded the world's attention on the field.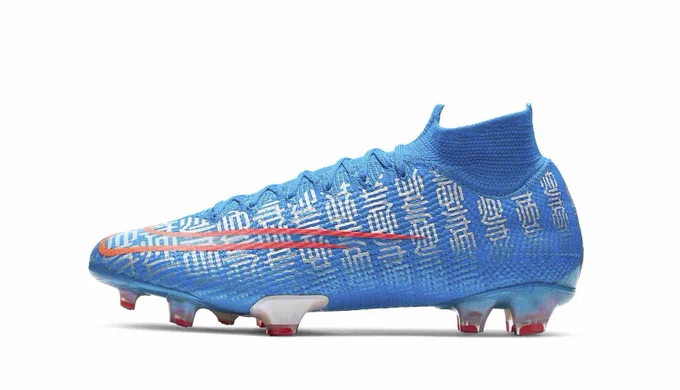 #29. Mercurial Superfly CR7 'Safari' – June 2020.
Wait a minute, haven't we already done this one?
Celebrating a decade of Ronaldo's on-field supremacy, Nike revisited the iconic design that marked the inception of the CR7 campaign, the first Safari Mercurial.
The Mercurial Superfly CR7 Safari paid homage to the Safari Print Mercurial Vapor Superfly II, but the 2020 edition also incorporated CR7's signature celebratory stance, logo, signature, and sleek sockliner that looks as good as it performs!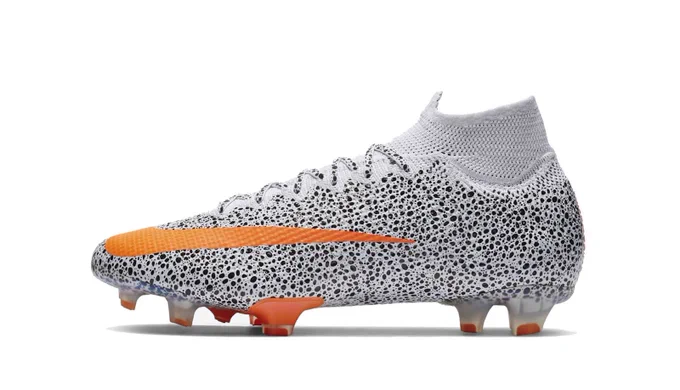 #30. Nike Mercurial Superfly CR7 "100 Goals" – October 2020
To commemorate Cristiano Ronaldo's remarkable achievement of scoring 100 goals for Portugal, a feat he accomplished during the UEFA Nations League match against Sweden on September 8th, 2020, Nike had a special surprise in store for him.
They presented Ronaldo with a striking red and gold design, featuring 'CR100' inscribed on the instep, the Portuguese flag on the tongue, and a gold Nike logo on the heel.
This moment was truly monumental in Cristiano's career, as he became the second player in history to score 100 goals for his national team, following in the footsteps of former Iranian forward Ali Daei.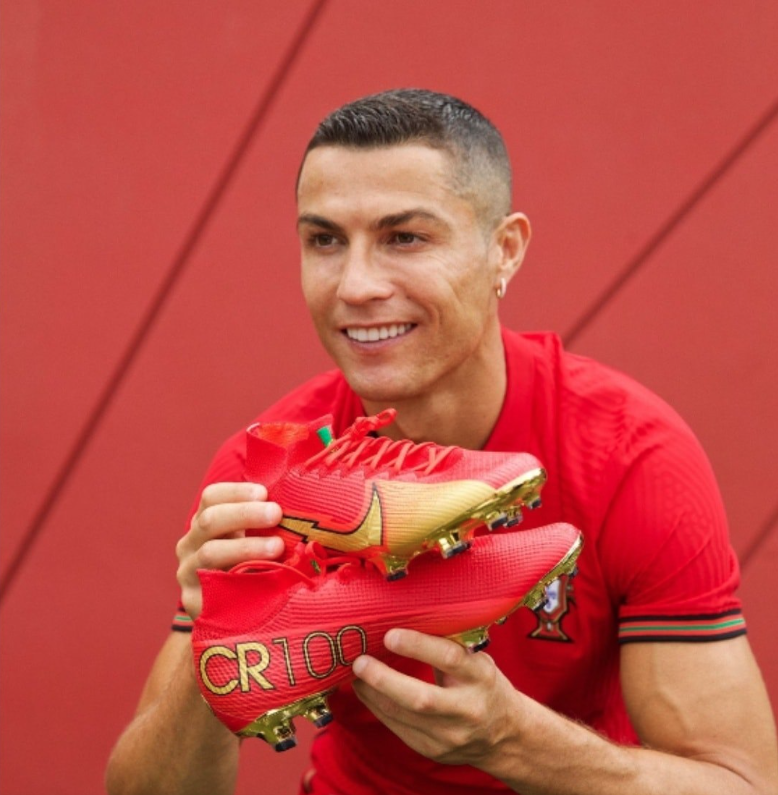 #31. Mercurial Superfly CR7 'Spark Positivity' – June 2021.
Notably worn by Cristiano throughout the 2020 Euros, the boot that 'Spark[ed] Positivity' saw CR7 race to the position of esteemed top goal scorer after the group stages.
Many speculated that this might be the pinnacle of his career, and with it being the 30th boot in the series, some even thought it would be the final one.
Oh, how naive we were…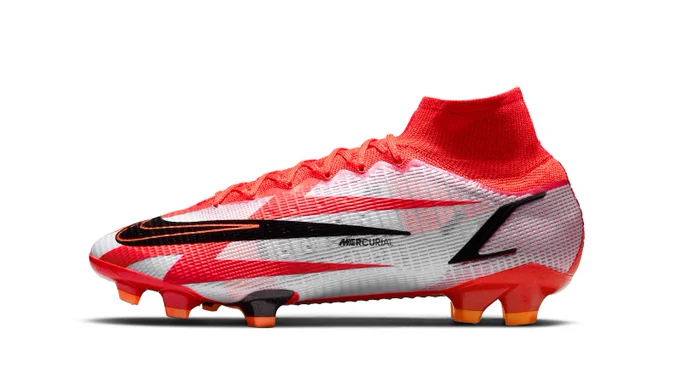 #32. Mercurial Air Zoom Superfly CR7 – October 2022.
Last, but certainly not least, the Mercurial Air Zoom Superfly CR7 boot has been the subject of speculation as potentially being Ronaldo's final signature design.
Drawing inspiration from Portuguese Azulejo tiles, Cristiano aimed to carry a piece of his nation with him to the Qatar World Cup, giving birth to the 31st Signature Mercurial in his collection.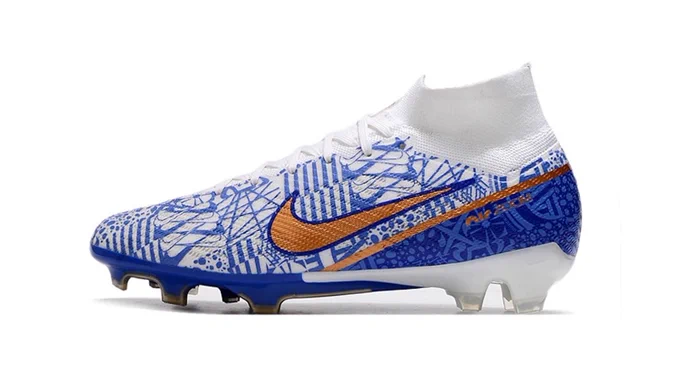 If this truly marks his farewell, we'll bid adieu for now. However, until that confirmation arrives, we'll be here at On The Line with the latest Football News,Guides & Boot Launches. So stay tuned and watch this space!