Skip to:
#1. The Best Turf Trainers Money Can Buy.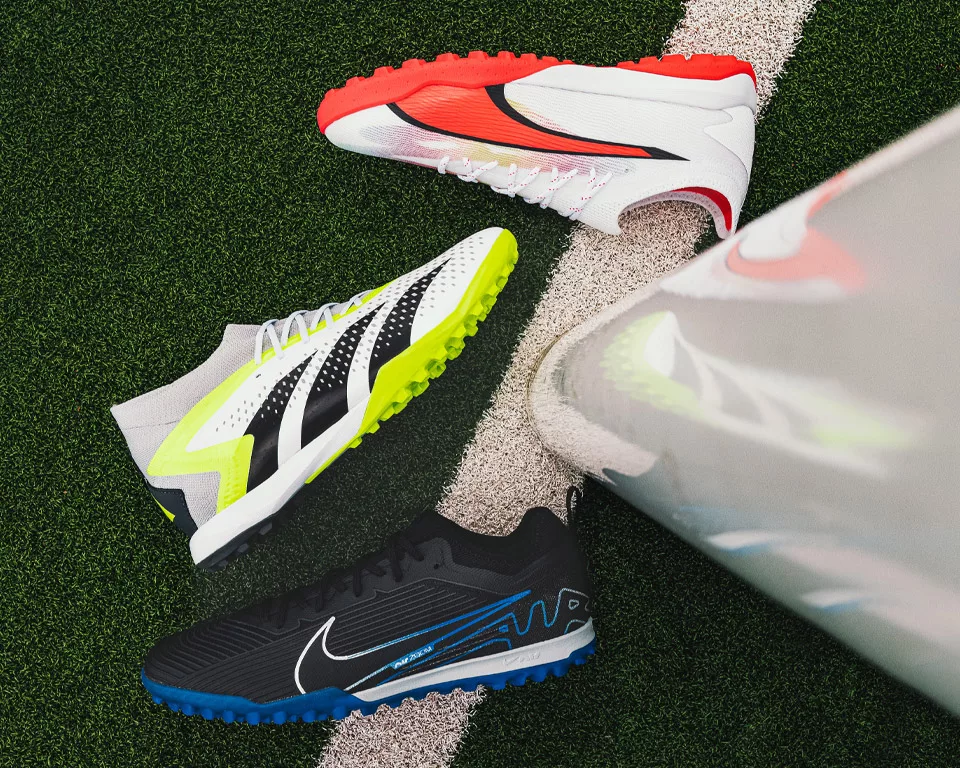 The Best Turf Trainers Money Can Buy
Get ready to gear up and supercharge your game with the incredible Puma Ultra Cage Astro Turf Trainers. These boots are specifically designed to give you that winning edge on the Astro Turf. Prepare to leave your opponents in the dust as you unleash your speed and agility.
The ULTRAWEAVE upper of these boots is an absolute game-changer. It's not only super lightweight but also stretches in all directions, providing a fit so snug it feels like a second skin. And don't worry about durability – the 2D ripstop structure is tough as nails, allowing you to give it your all without any concerns about wear and tear!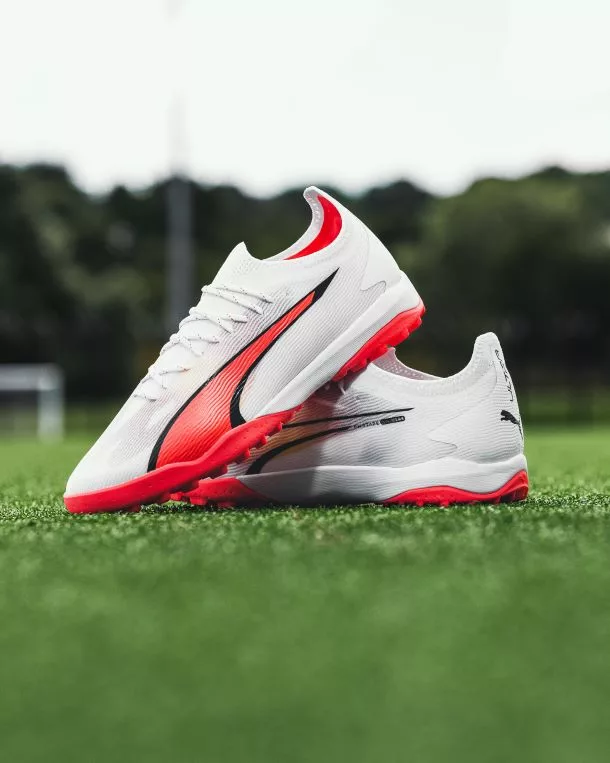 With the PWRTAPE support system, you can say goodbye to instability. These boots are engineered to follow the natural shape of your foot, delivering improved stability and instilling you with unshakable confidence on the field. Every step you take will feel like a burst of acceleration, thanks to the EVA cushioned sole that propels you forward.
Of course, a secure fit is essential, and the full lace closure of these boots ensures just that. Once you've laced them up, they won't let you down, keeping your feet locked in and ready for action. And let's not forget about the sleek and unmistakable Puma branding that adds a touch of style to your performance.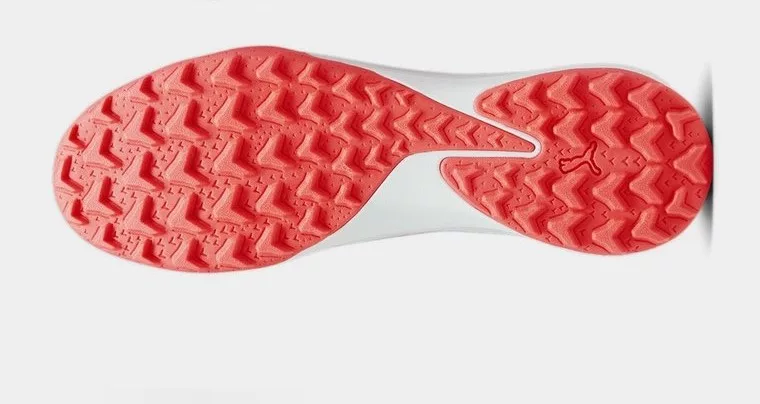 It's time to step up your game and conquer the turf like never before. Don't miss out on the opportunity to unleash your full potential with the Puma Ultra Ultimate. Get ready to dominate the field and leave your mark as a true force to be reckoned with.
Even legends are always searching for ways to evolve. For those who are truly serious about their game, the latest iteration of these Pro shoes introduces the all-new FlyTouch Pro engineered leather. This cutting-edge material is softer than natural leather, providing an exceptional level of comfort while contouring perfectly to your foot.
With the added benefit of All Conditions Control technology, these shoes maintain a grippy texture even in wet weather, allowing you to confidently dictate the pace of your game.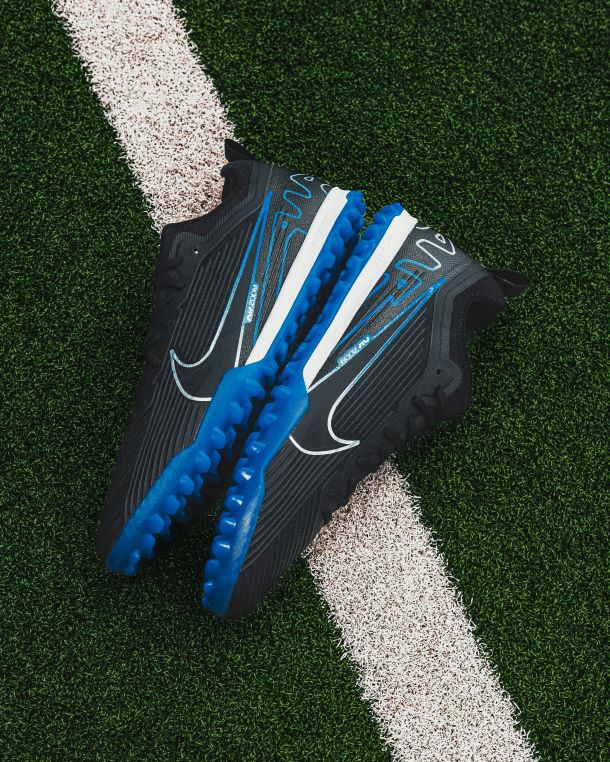 Experience a natural and contouring fit like never before, thanks to the incredibly soft FlyTouch Pro engineered leather. It moulds to your foot, providing exceptional comfort without compromising the integrity of the material. The inclusion of a knit inner sleeve adds a layer of security, giving you a confident and locked-in feel.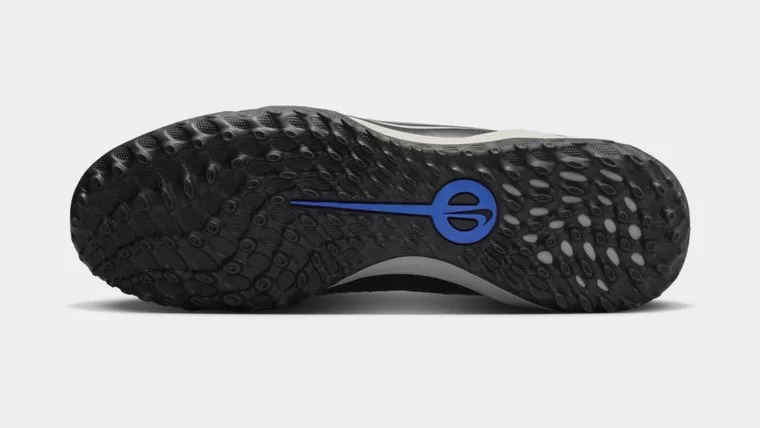 When it comes to traction, the rubber outsole of these shoes excels on turf surfaces, ensuring you maintain stability and control throughout the game.
Elevate your game and unleash your inner legend with the exceptional Legend 10 Pro shoes. It's time to take your skills to new heights and leave an indelible mark on the pitch.
Whether you're aiming for the top corner or the bottom corner, the adidas Predator Accuracy is your ultimate companion for goalscoring mastery.
These football boots are meticulously crafted to ensure that the ball finds the net with precision and finesse. The soft HybridTouch upper, complemented by High Definition Grip rubber elements, delivers unparalleled grip on the ball without compromising the flexibility of the forefoot.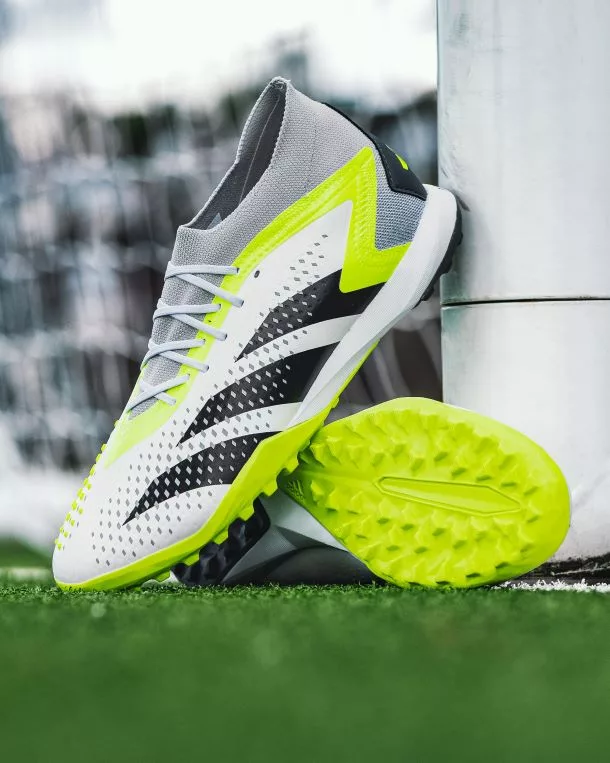 Designed to excel on artificial turf, the adidas Predator Accuracy offers both comfort and stability. The Bounce midsole provides responsive cushioning, while the lug rubber outsole guarantees traction and support with every step you take.
But that's not all… The upper of these boots is made using a series of recycled materials, incorporating at least 50% recycled content. By choosing the adidas Predator Accuracy, you not only enhance your performance but also contribute to our mission of reducing plastic waste and creating a better future. It's a win-win in our eyes!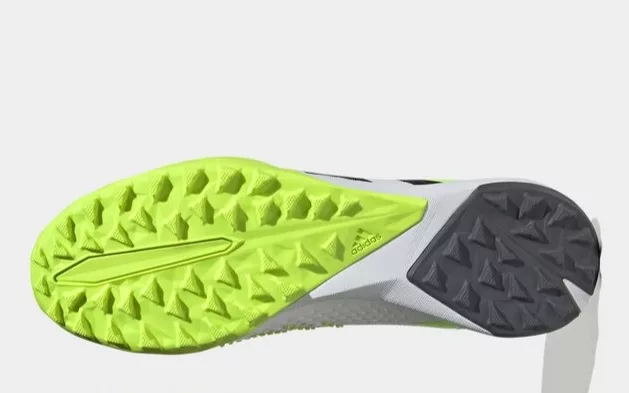 So, step onto the pitch with confidence, knowing that the adidas Predator Accuracy will elevate your goalscoring game and make a positive impact on the environment. Embrace the power of precision, performance, and sustainability with adidas.
Mid-Range
Ignite your game and soar to new heights with the perfect fusion of unmatched performance and eye-catching style. Brace yourself for a revolutionary football boot that defies conventions and shatters boundaries. Prepare to break free from the norm and experience a whole new level of play.
This game-changer goes beyond the ordinary. With its dynamic compression band, it wraps around your foot with a vice-like grip, delivering an unrivalled lockdown that keeps you in complete control. No more slippage or distractions – just pure focus on your game.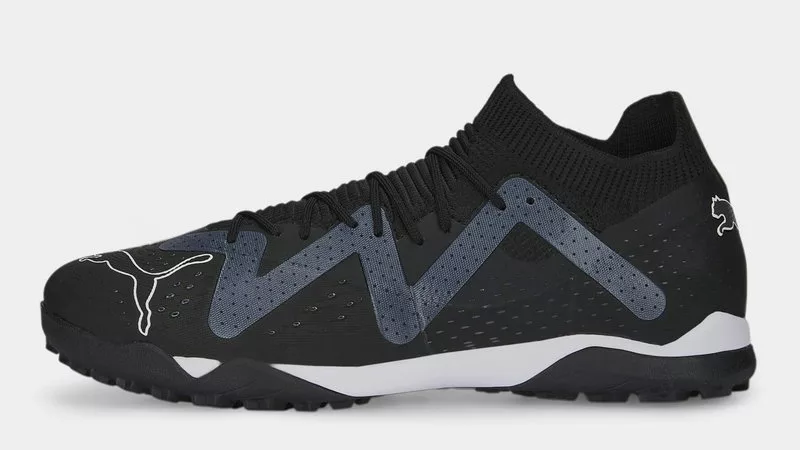 And that's not all. The Dynamic Motion System takes your explosive energy and channels it directly to the pitch, unleashing unstoppable traction that sets you apart from the competition.
But it's not just about performance – it's about making a statement. Stand out from the crowd with a boot that exudes cutting-edge design and bold aesthetics. Embrace the spotlight and leave a lasting impression as you dominate the field with every move.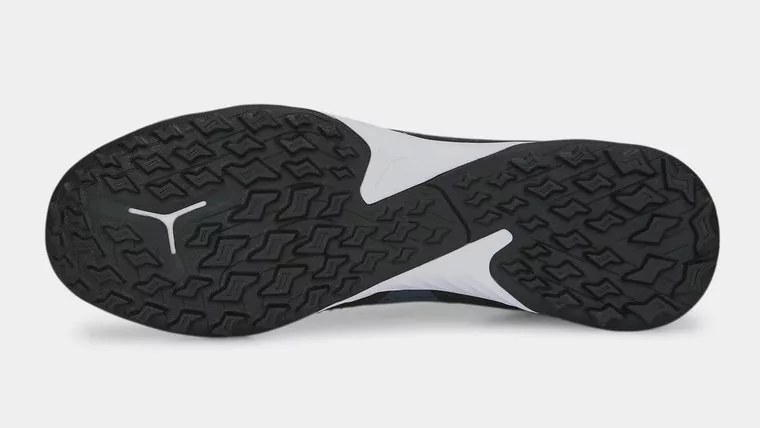 Step into the future of football footwear and unleash your true potential. It's time to transcend boundaries, defy expectations, and take your game to unparalleled heights. Are you ready to set the pitch ablaze with your skills and style? The choice is yours.
Are you the type who thrives on keeping your rivals guessing? Prepare to unleash chaos with the adidas X Crazyfast football boots.
Designed to deliver explosive performance on short-bladed synthetic fibre, these boots provide unmatched stability at full tilt. With their lug rubber artificial turf outsole and soft EVA midsole, you'll feel unstoppable on the field.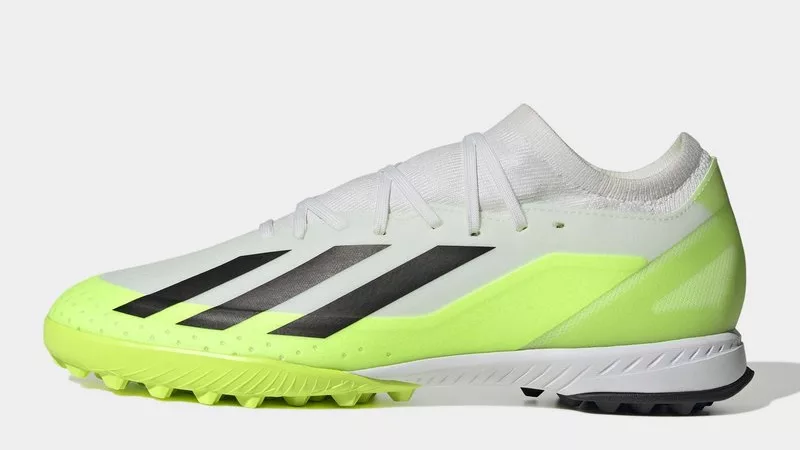 The adidas X Crazyfast boots are not just about power and agility. They are crafted with a lightweight coated textile upper, strategically reinforced only where needed. This unique design approach ensures a featherlight feel while maintaining optimum durability. To keep you locked in and focused, the boots feature a flat-knit collar that provides a secure fit, giving you the confidence to take on any challenge.
But adidas doesn't stop at delivering exceptional performance. They are also committed to making a positive impact on the environment. That's why the upper of these boots is crafted with a series of recycled materials, incorporating at least 50% recycled content. By choosing this product, you join us in our journey towards a more sustainable future.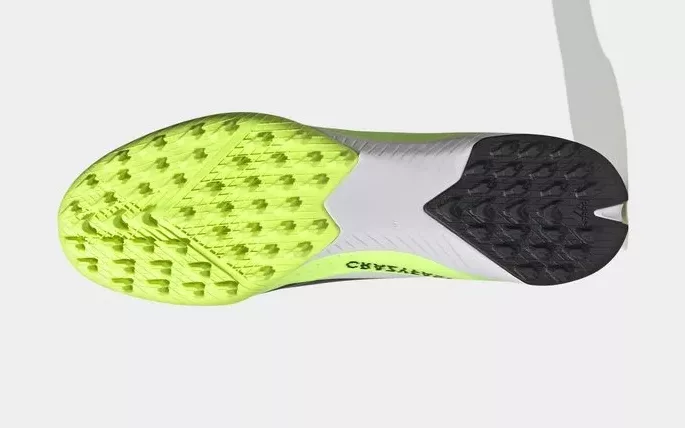 So, are you ready to change the game, defy expectations, and leave your mark? Lace up the adidas X Crazyfast boots and show the world what true innovation looks like. Embrace the power of performance while making a difference. It's time to revolutionize the pitch and be the catalyst for change.
Balling on a Budget
Take your game to the next level with the men's Ultra Play TT football boots from PUMA. Designed in a captivating White and Fire Orchid colourway, these boots are more than just a stylish statement. Crafted from smooth and lightweight PU material in the upper, they offer long-lasting durability and comfort.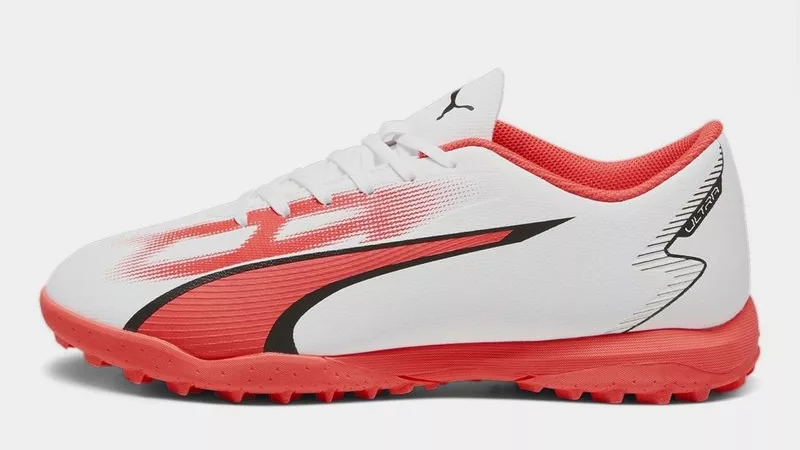 The lace fastening ensures a secure and personalized fit, while the padded collar provides essential support throughout your gameplay. Equipped with a multi-studded rubber outsole, these boots excel on artificial turf, offering optimal traction and manoeuvrability.
Complete with the iconic Formstrip detail on the sidewalls and PUMA branding on the tongue, these boots deliver a touch of sophistication and unmistakable style.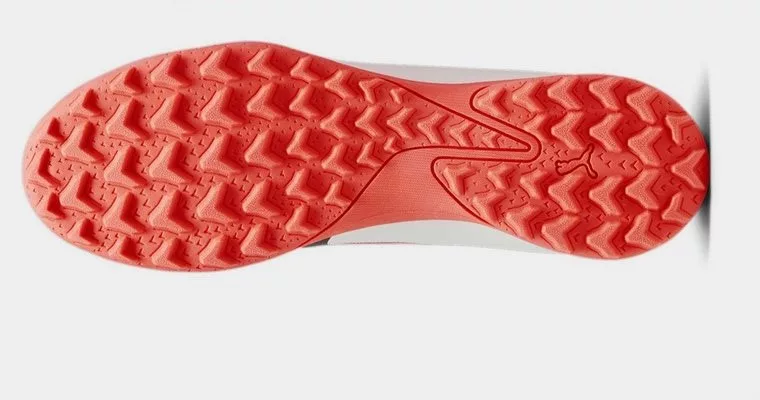 It's time to step up your performance and leave your opponents in awe.
Take your game to the next level with the men's Ultra Play TT football boots from PUMA. Experience the perfect blend of fashion and functionality, designed to enhance your skills on the field. Are you ready to make your mark?
Unlock your maximum potential on the astro turf with the Nike Mercurial Vapor Club Astro Turf Trainers. Engineered to deliver unmatched comfort, traction, and style, these trainers empower you to unleash your true performance during every match.
Featuring a full lace fastening, these trainers offer a secure and customizable fit, allowing you to focus solely on your game without any distractions. The cushioned insole and padded ankle collar provide exceptional comfort, keeping you comfortable and supported throughout the entire match.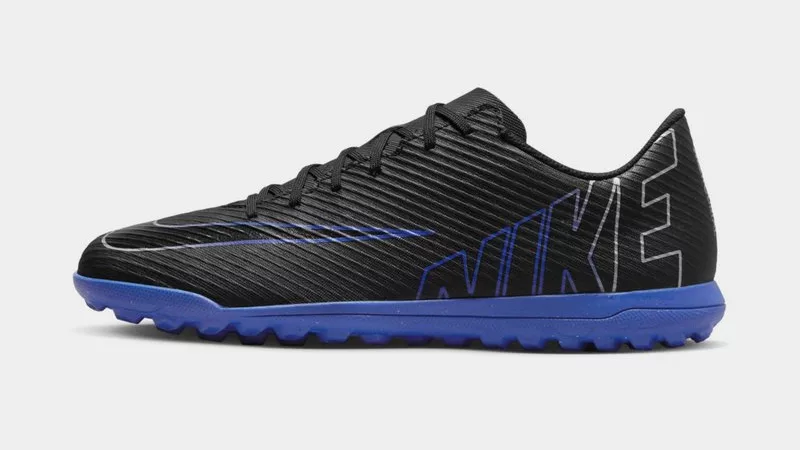 Designed with a non-marking rubber outsole and moulded studs, these trainers offer maximum traction and agility on the astro turf. Every step you take will be firmly planted, allowing you to make quick turns and explosive movements with confidence and precision.
With its stylish Mercurial detailing and iconic Nike Swoosh branding, these trainers not only deliver exceptional performance but also make a statement on the field. Show off your style and let your skills shine!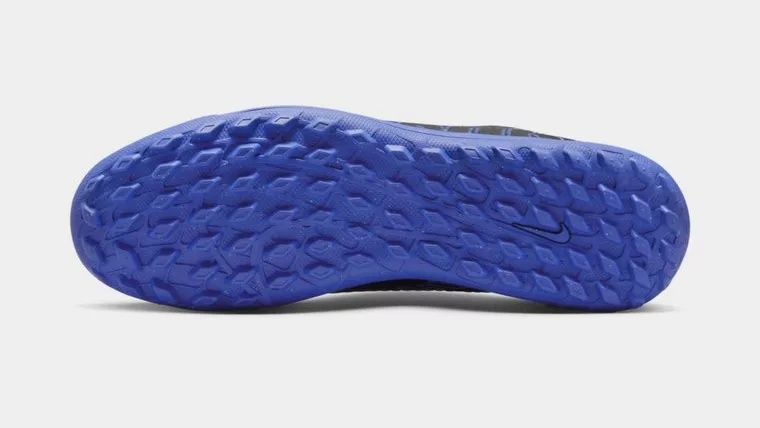 Gear up with the Nike Mercurial Vapor Club Astro Turf Trainers and dominate the game. It's time to unleash your potential and leave a lasting impression. Are you ready to conquer the astro turf?
Experience the exhilarating surge of electrifying pace with the adidas X Crazyfast.4 TF football shoes in the captivating White/Core Black/Lucid Lemon colourway. These cutting-edge shoes are designed to ignite your speed in every direction, giving you a distinct advantage on the field.
The moment you slip into the X Crazyfast and hit the field, defenders know they're in for a challenge. These shoes have been carefully crafted to wreak havoc on the defense with lightning-fast speed and unmatched agility.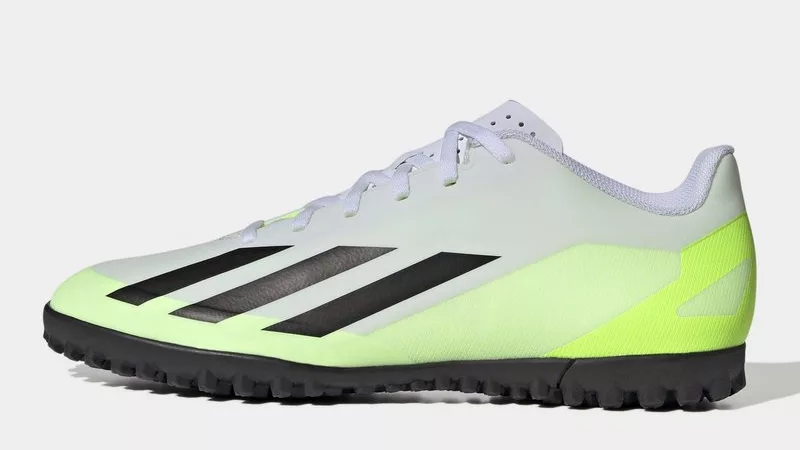 Formed of a lightweight textile upper, these shoes strike the perfect balance between support and a featherlight feel. Every detail, including the perforated tongue, is thoughtfully designed to optimize your speed and responsiveness.
The outer layer of the shoes features a textured coating that enhances your ball control when dribbling at full throttle. Feel the precision and finesse as you glide past your opponents with ease.
Beneath your feet, springy EVA cushioning provides responsive traction, propelling you forward with explosive energy. The aggressive lugs on the outsole deliver instant grip, allowing for rapid-fire cuts and lightning-quick turns that leave your adversaries in awe.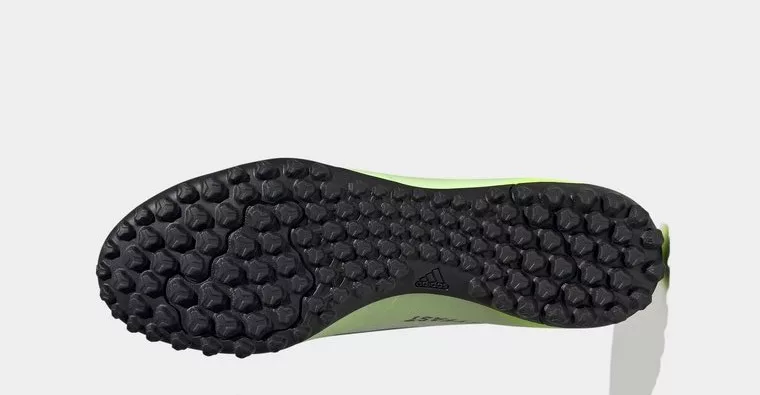 Unleash your true potential and embrace the exhilarating rush of speed with the adidas X Crazyfast.4 TF football shoes. Redefine the boundaries of your game and leave an indelible mark on the pitch.
The Classics
Puma King Top

Indulge in the gift of the KING Top TT, a contemporary masterpiece that pays homage to a timeless design. This football boot builds upon the legacy of the original King, which has long reigned supreme as the preferred choice of professionals and true football enthusiasts.
Now, it has been reinvented with a seamless blend of modern flair and cutting-edge technology, allowing you to embrace the future while honouring the iconic KING heritage.
Crafted with environmentally responsible practices, the leather used in this product is sourced from audited and certified manufacturers, following the stringent protocols of the Leather Working Group. This ensures a sustainable approach without compromising on quality.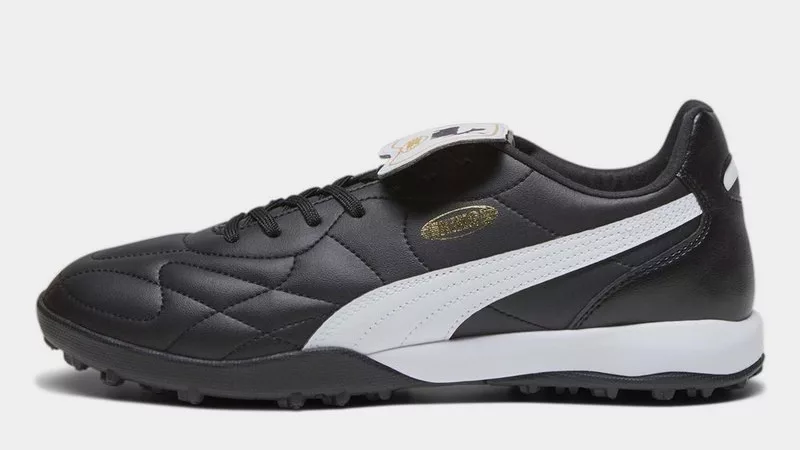 The K-leather upper delivers a luxurious touch and exceptional ball control, allowing you to command the game with confidence. The fold-over tongue adds a touch of classic style, while the EVA midsole offers responsive cushioning for enhanced comfort during every match.
Designed with a low-profile multi-studded rubber outsole, these boots provide superior traction on hard natural surfaces and synthetic grass. Whether you're playing on the pristine pitch or the challenging artificial turf, the KING Top TT is your go-to choice.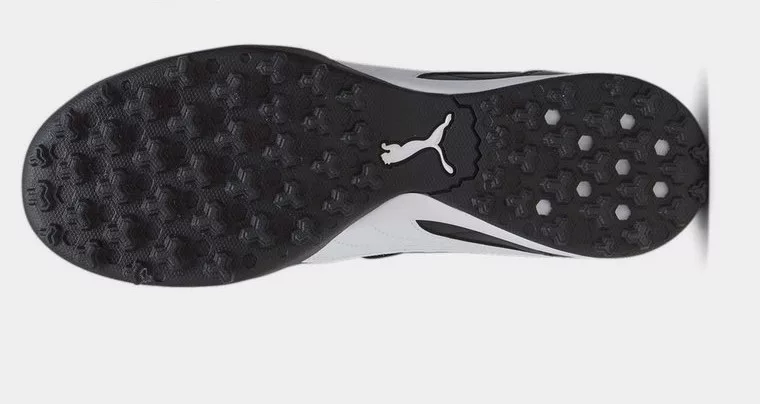 Emblazoned with the iconic PUMA No. 1 Logo on the tongue and the PUMA Cat Logo on the heel, these boots proudly showcase their heritage. The contrasting PUMA Formstrip on the lateral side adds a touch of distinction, setting you apart from the competition.
Step into the future while honouring the timeless legacy of the KING with the remarkable KING Top TT football boots. Unleash your skills, make your mark on the pitch, and write your chapter in football history.
Like what you see? Check out our full range of Astro Turf Trainers below. You won't want to miss this! In the meantime, stay in the loop with the latest Boot Drops, Guides & Football News at On The Line.